Hats. I love wearing hats IRL. In SL? Very hit or miss. Unless they come with the hair (and even sometimes when they do), they can be hard to work with. And when they come rigged to the hair, options for styling are very specifically limited to the type of hair. However for me, anything is better than the blockiness we had in the old days. Mesh really changed everything.
I have been collecting hats over the last several months. With hair and without. Some of the ones that worked pretty well I have already blogged here and here. Some other ones I have picked up recently…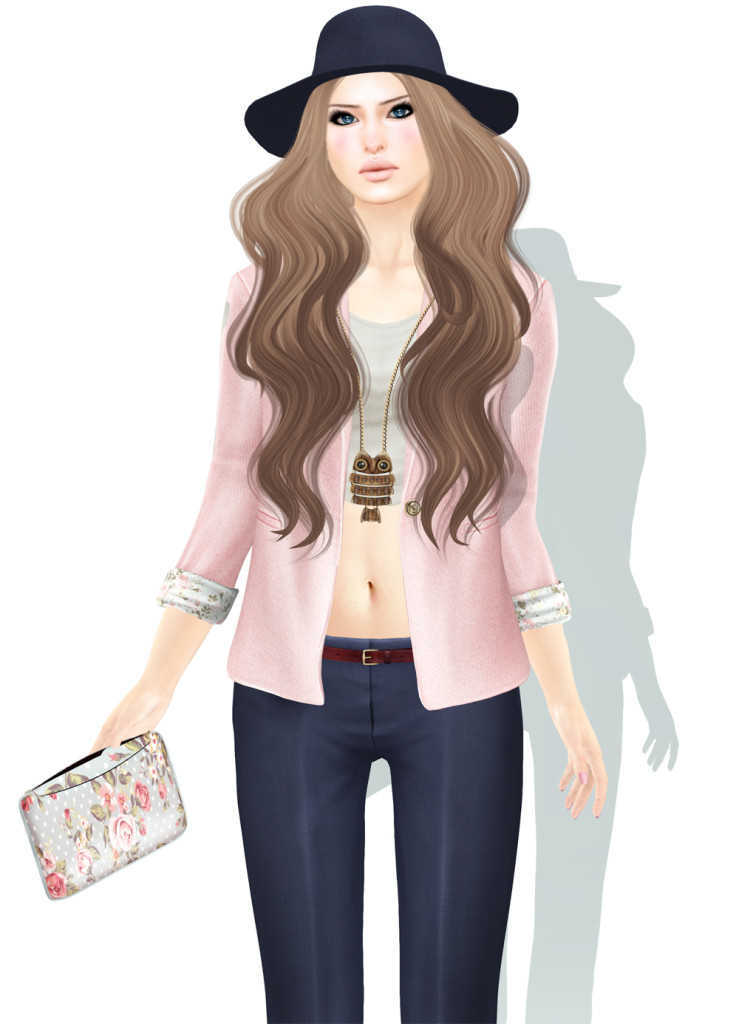 Truth's new Armelle hair/hat combo at Uber. The hat is overall color change but the band detail isn't, so your only choice is black there. It's a sweet, springy hat but if hats aren't your thing, you can wear the hair without it. The outfit is mostly Erratic from Uber. The blazer needed a shirt so I used the new crop top from Atomic, also at Uber. You can use appliers as I did to make it more usable with the blazer. The trousers are very well done, also from Erratic. I do wish the belt was color change, but of course brown leather is pretty versatile. Andddddddd, I finally got to wear the Reign Creeps I have been holding on to for ages (I do not even remember where I got them – months ago).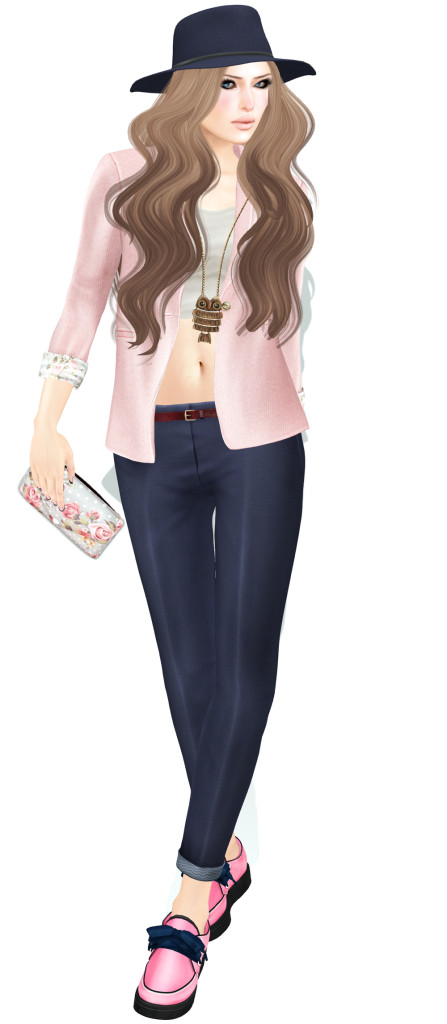 I have been holding onto this next hat, which I found at the Bikers Choice Fair. It's by [Body Factory], which I haven't come across before. Cute bucket hat that I resized to make it a little more feminine. If I recall, there were several color choices available.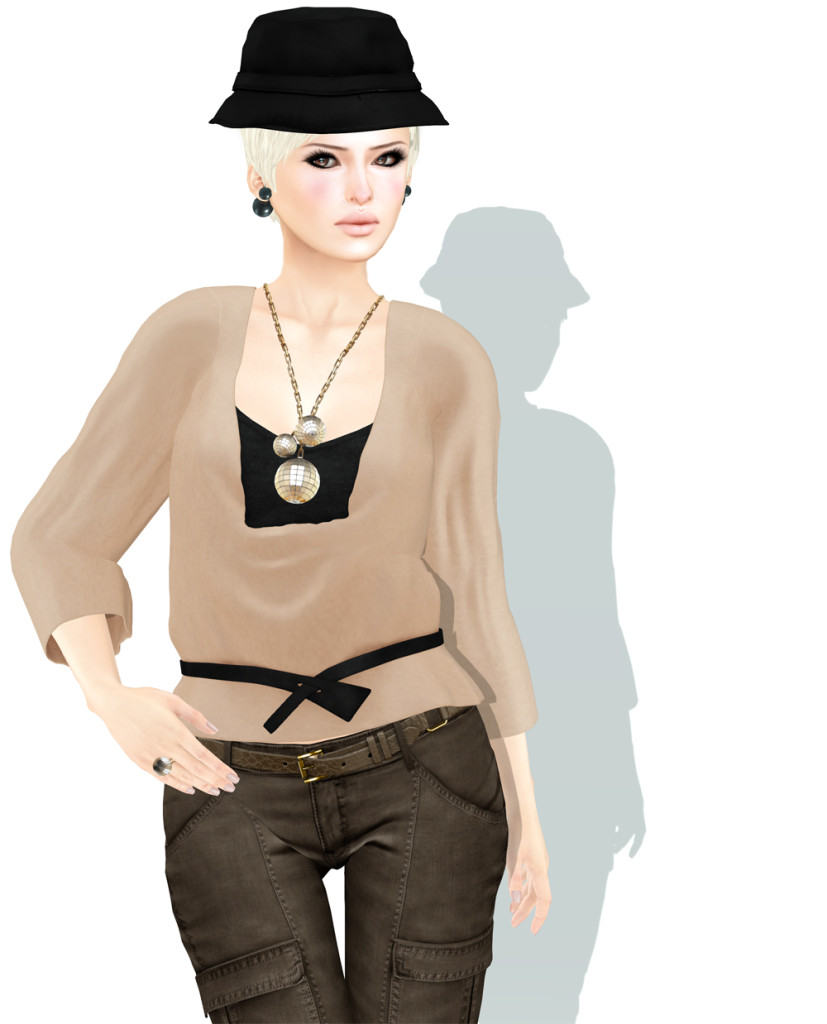 The top is a FLF offering from C'est la vie. With color change belt and undershirt, it's quite cute. I put on my new cargo pants from Addams again, and added some fun jewelry from Enfant Terrible at Kustom9 as well as darling flats from Pure Poison that are out as gacha items at Kustom9. I have been waiting to wear them (love!).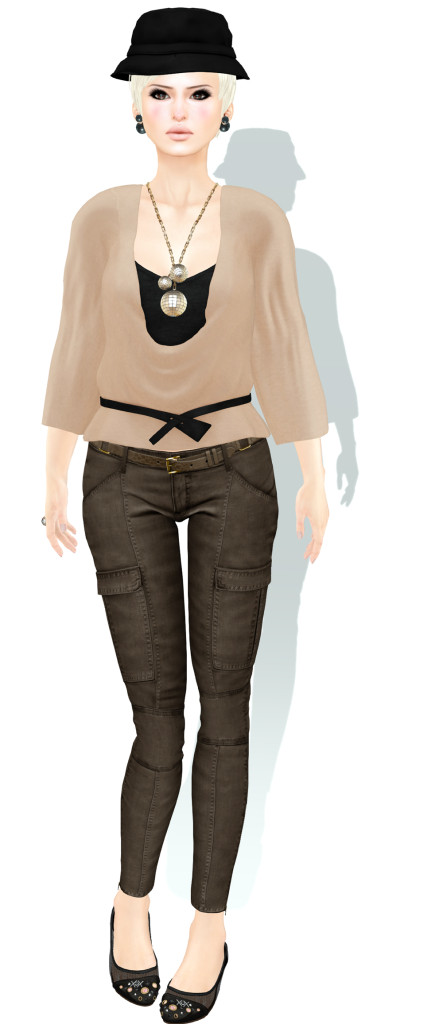 The Looks
Skin: Belleza Jia 2 (pale) *New @ Uber*
Hair/Hat: Truth Armelle *New @ Uber*
Blazer: Erratic Anya (pink) *New @ Uber*
Trousers: Erratic Tegan (navy) *New @ Uber*
Top: Atomic Basic Crop Top (shell) *New @ Uber*
Shoes: Reign Creeps (bubblegum)
Clutch: Ariskea Les Roses Clutch (1970)
Necklace: Zenith Wooden Owl
Skin: Belleza Jia 2 (pale) *New @ Uber*
Hair: Chemistry Min v2
Hat: [Body Factory] Hunter Bucket Hat (black) *@ Biker's Choice Fair*
Top: C'est la vie Zita Drape Top (sandstone) *New for FLF*
Pants: Addams Cargo Pants (brown) *New @ Uber*
Shoes: Pure Poison Kath Flats (black) *New @ Kustom9*
Necklace: Enfant Terrible Disco Ball Necklace (gold) *New @ Kustom9*
Ring: Enfant Terrible Disco Ball Ring (gold) *New @ Kustom9*
Earrings: Mandala Pearl Rain Season 3 (black)