Back when I started SL in 2006, there was a big movement to bring RL corporations into the "game." I guess it was mildly successful for a short time, but in the end, it wasn't really a business platform. During that time though, there was all sorts of "business wear" (a lot of it was terrible – made by these RL corporations that had no idea how to design digital clothing…). Today, in the spirit of that time, I'm all business. "Business" done right in 2015; as if I had somewhere very important to go (I mean, except for the bow in my hair 😉 ).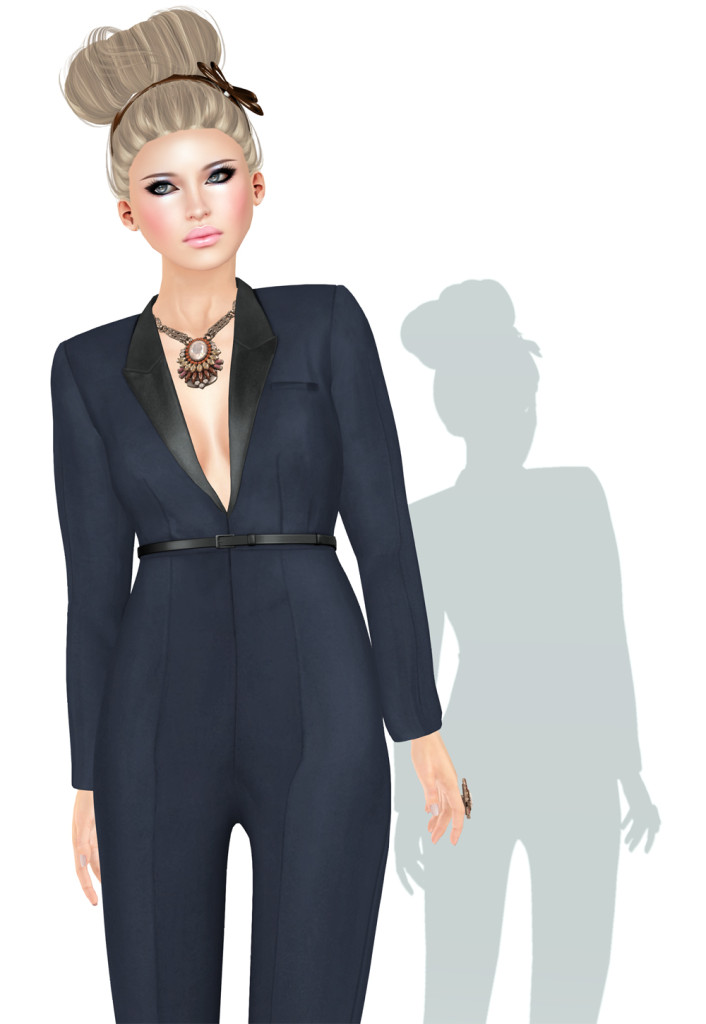 This tuxedo jumpsuit is from Rowne, new at Uber.  I love navy and earth tones together. Less springy than the season calls for maybe, but a very effective pairing. I decided against earrings and instead focused on yet another impressive necklace from Mandala. Good Lord, I have not seen jewelry like this in SL from anyone else…ever. My bag is perfectly sized, from Deadwool, also at Uber. My skin, the gorgeous "Grazia" from Glam Affair (America tone).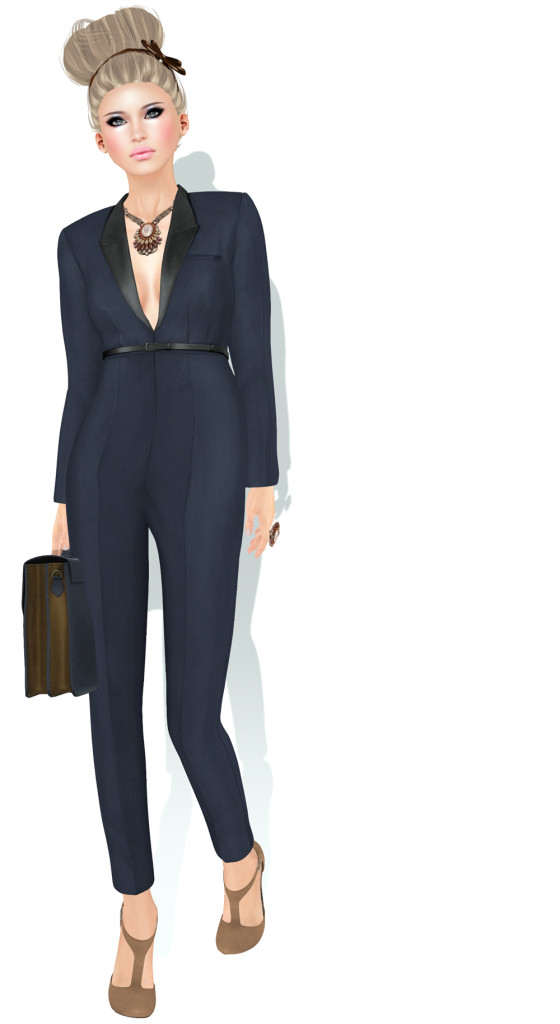 I actually had a ton of fun styling this next piece from NYU available at Creation.JP. The scarf is color change but the belt isn't. I love teal in small doses and thought gray, blue and teal made a nice presentation with the incredible Mandala bracelet. It reminds me of something a "clacker" would wear in The Devil Wears Prada.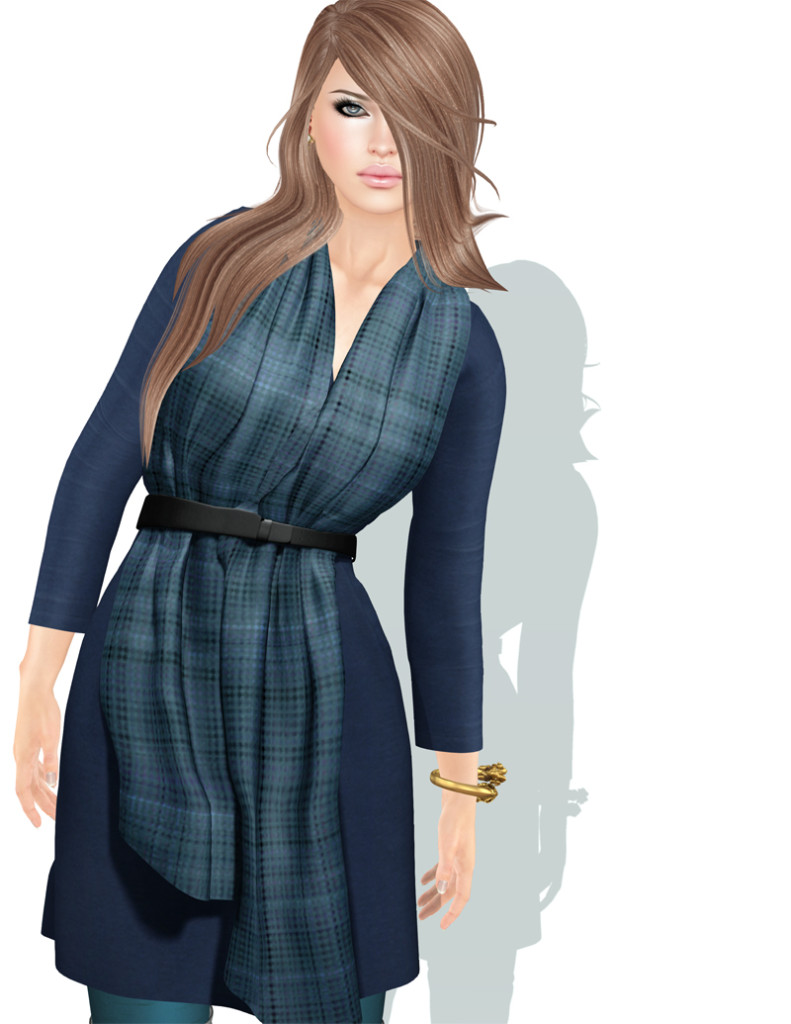 I added a big bag from Reign to go with the boots, which I swore were not "me." Turns out, I have blogged them several times now. A little unexpected but I love the outcome.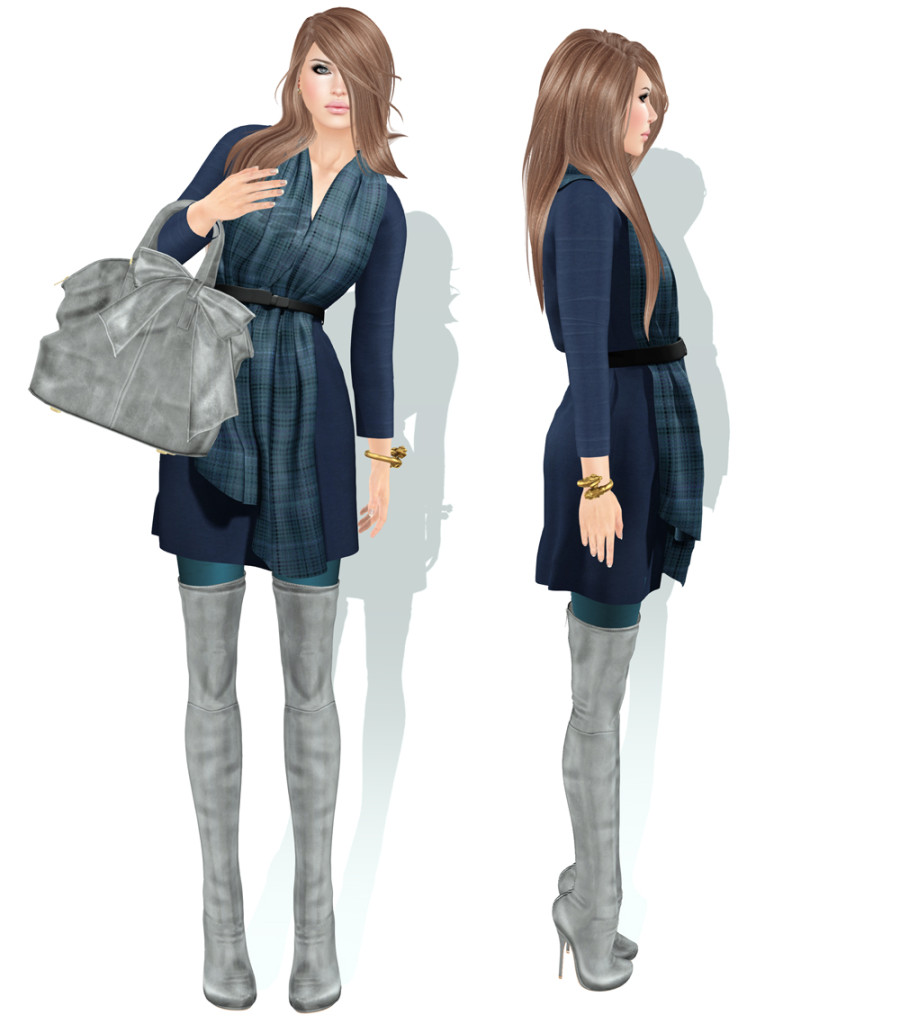 The Looks
Body: Maitreya Lara
Skin: Glam Affair Grazia 06f (America) *New @ Uber*
Hair: Olive The Runa
Headband: LaGyo Fran Vinyl Bow Headband (brown)
Jumpsuit: Rowne Hermann Tuxedo Jumpsuit (navy) *New @ Uber*
Necklace/Ring: Mandala Princess Dogtag (antique) *New @ Uber*
Bag: Deadwool Shawn Working Bag (blue) *New @ Uber*
Shoes: Fri.day Audrey Pumps (tanned)
Body: Maitreya Lara
Skin: Glam Affair Grazia 03F (America) *New @ Uber*
Hair: Moon Devour *New at N21*
Dress: NYU Scarf Dress (navy) *New @ Creation.JP*
Boots: Reign Marylin (gray)
Bag: Reign Avantii (gray)
Tights: Izzie's
Earrings: Yummy Double Diamond Studs
Bracelet: Mandala Fearless (gold) *New @ Uber*