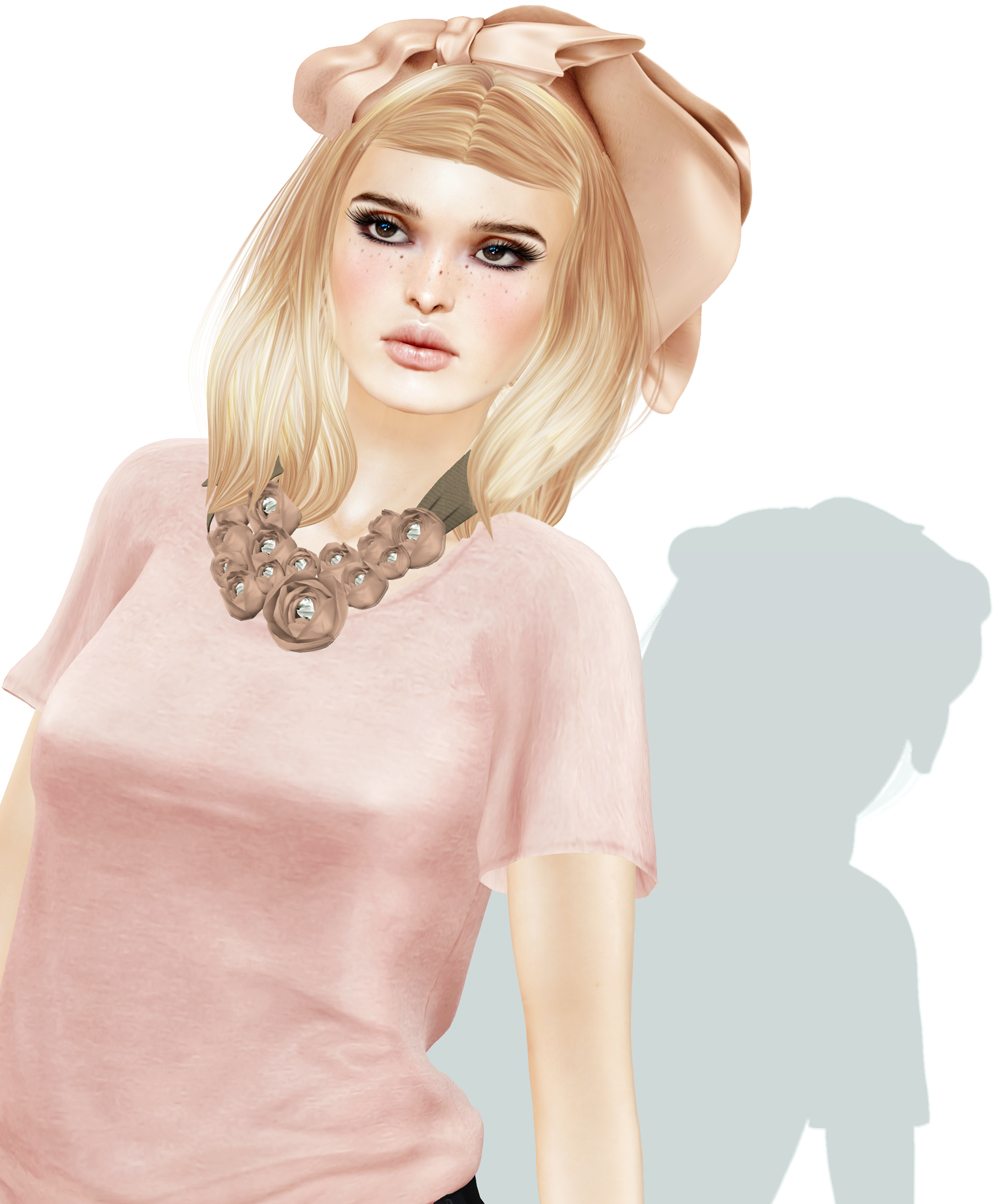 Despite more event openings, I really began this look with revisiting some of my favorites, both in my inventory and by visiting the main stores of several designers. Novel, I know!
After I came back to SL last winter, "Blair" (The Skinnery) was the first skin I fell in love with after Glam Affair. I can't get enough of the stylistic faces that come out of that brand. This face reminds me of some of my old favorites from Nylon years and years ago. It's not easy to create a really interesting look that's still very beautiful – at least in RL. This particular skin has always mesmerized me from that perspective.
Then, I took a trip over to LaGyo after picking up a Gillian-approved bow accessory at Collabor88. I noticed the store had been redesigned since my last visit and there's now a discount building across the way from the main shop. Something I do a lot in SL is revisit brands that have inspired me in the past and I am rarely disappointed. This is why main store shopping is much more my thing. I literally feasted on items I wasn't around to get when they were "new." But practically everything in SL is new to me after such a long break, you know?
Have a great Sunday!
Skin: The Skinnery Blair (champagne)
Eyes: [Buzz] Celestial (pitch)
Lashes: Izzie's
Freckles: Birth (nose and cheeks)
Hair: Olive The Sparkle Hair
Bow accessory: LaGyo Vigee Headband (nude) *new @ Collabor88*
Necklace: LaGyo Blanche Necklace (tan/rose)
Rings: LaGyo Ludovica Double Ring
Top: vive nine Willa Tucked Tee (pink)
Trousers: Celoe xui trousers (shark)
Socks: Atom!c (Maitreya)
Flats: fri.day Darcy Flats (dotty – Maitreya)
Lips: The Skinnery Enigma Matte 7
Hair: Mithral Thistle *new @ Kustom9*
Hat: LaGyo Yolanda
Necklace/Earrings: LaGyo Blanche (white)
Top: Emery Euphemia Tied Shirt (pure – Maitreya) *new @ Collabor88*
Trousers: erratic Tegan pants (navy)
Tote: ryvolter knot (navy)
Shoes: Essenz Virginia (white – Maitreya)
Lips: Izzie's Matte Lipstick (blackberry)
Hair: Pr!tty Ausi (browns)
Necklace: Glam Affair Bubble Necklace (bicolor 1)
Top: Milk Motion Maxi Skirt Top (white) *new @ Collabor88*
Trousers: coldlogic becker (ash)
Clutch: LaGyo Maylea Clutch (pale)
Shoes: fri.day Didi Wedges (pewter) *new @ Kustom9*