I don't know about anyone else but I am wrapping up an incredibly intense work week. I couldn't log in, definitely couldn't blog, and was asleep by 10:00 most nights only to be back in the office again by 7:00 a.m. the next day 😮 It's good to be back! Annoyingly, I actually did have a blog all tee'd up for the week and while editing it from my iPad, I accidentally trashed it. I will revisit the topic, which focused on "where do we go from here?" in terms of mesh heads, because some interesting things have been happening in the market.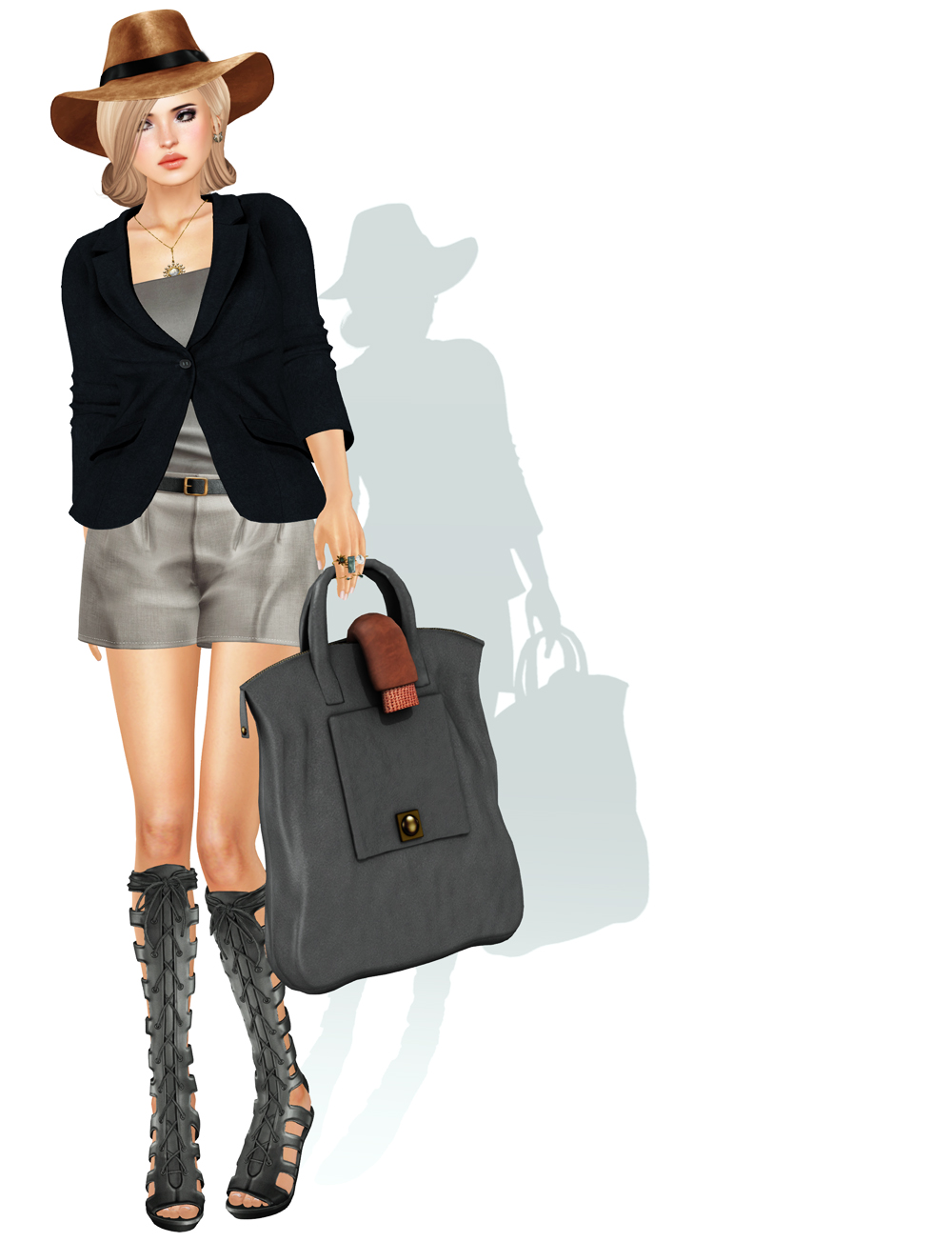 But for now, I'm focused on Friday and I happen to love the little ensemble I am wearing here. It's a real hodgepodge of items I really like, but with my own treatment. I very rarely wear things "as is" in Second Life, just like IRL. It annoys me that some things come only as "outfits" that can't be split up in any way. You have to get creative with different sizing to make things fit in the way you envision. That's fine, but I prefer being able to use different pieces as I see them too.
The textures on the blazer from COCO and the top/shorts ensemble from GizzA are really incredibly done. In fact the whole look is quite remarkably detailed on inspection – from the tote by David Heather and gladiator sandals from ISON, to the hat from OVH. I am a big fan of detail and I thank each artist for their work because it's what makes SL fun for me!
This is a short one because I already have to get going on work, but I hope to be back in earnest over the weekend. TGIF!
Skin: Lara Hurley Elea (angel – midtone – shown with freckles)
Eyeshadow/Lips: Lara Hurley Purple/honey lips (available separately)
Eyes: [Buzz]
Hat: OVH & Texas Hat (creme)
Hair: [e] Lillian
Necklace: Yummy Starburst Shaker
Earrings: Pure Poison Wooden Fox
Blazer: COCO Stretch Blazer (midnight) *new @ Shiny Shabby*
Top/shorts: Gizza Bonnie set (stone) *new @ Shiny Shabby*
Sandals: ISON lace-up gladiator sandals (grey – Maitreya)
Tote: David Heather Palazzo Tote (grey) *new @ Collabor88*