Yesterday was intimate, today is intricate. I feel like because designs in SL often have to be exaggerated to be "seen," sometimes the subtleties of a piece of jewelry or belt, for example, are overlooked. So this is all about those details that make whatever we're wearing special. Very. Even if you're the only person who notices because everyone else is a sea of gray as you race around an event.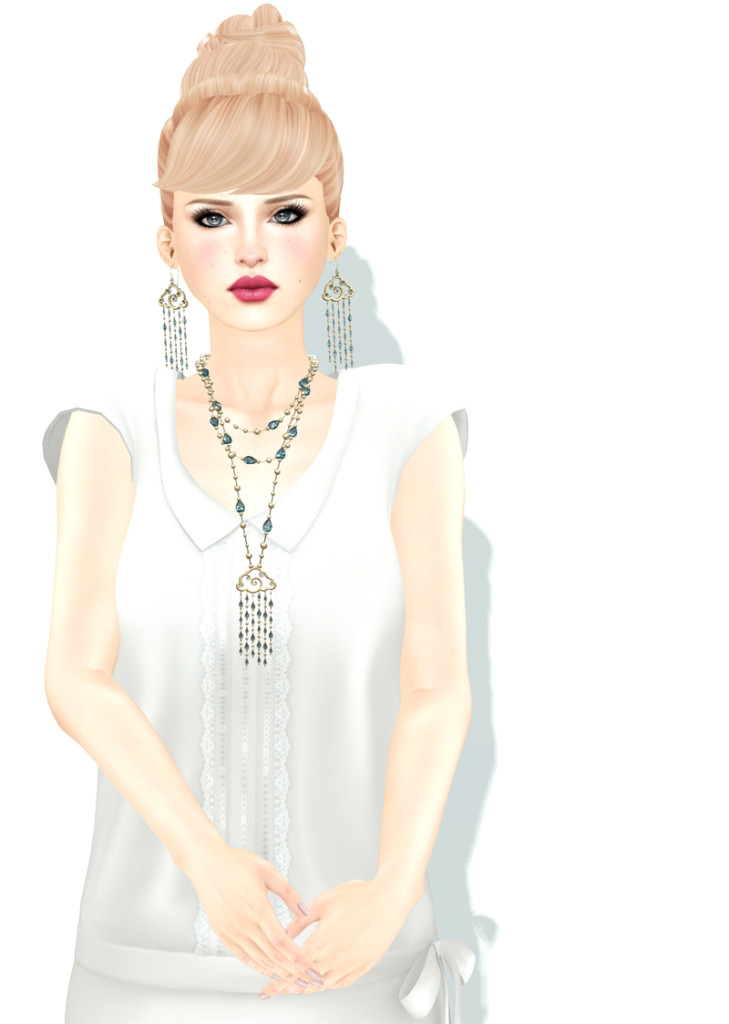 These jewels are from EarthStones, available at Creation.JP. Intricate beading and metalwork. Delicate and very beautiful. My skin is Romy from Izzie's. She comes with so many tattoo lip options, beauty marks, eyeshadows, etc. to make her so unique and infinitely customizable.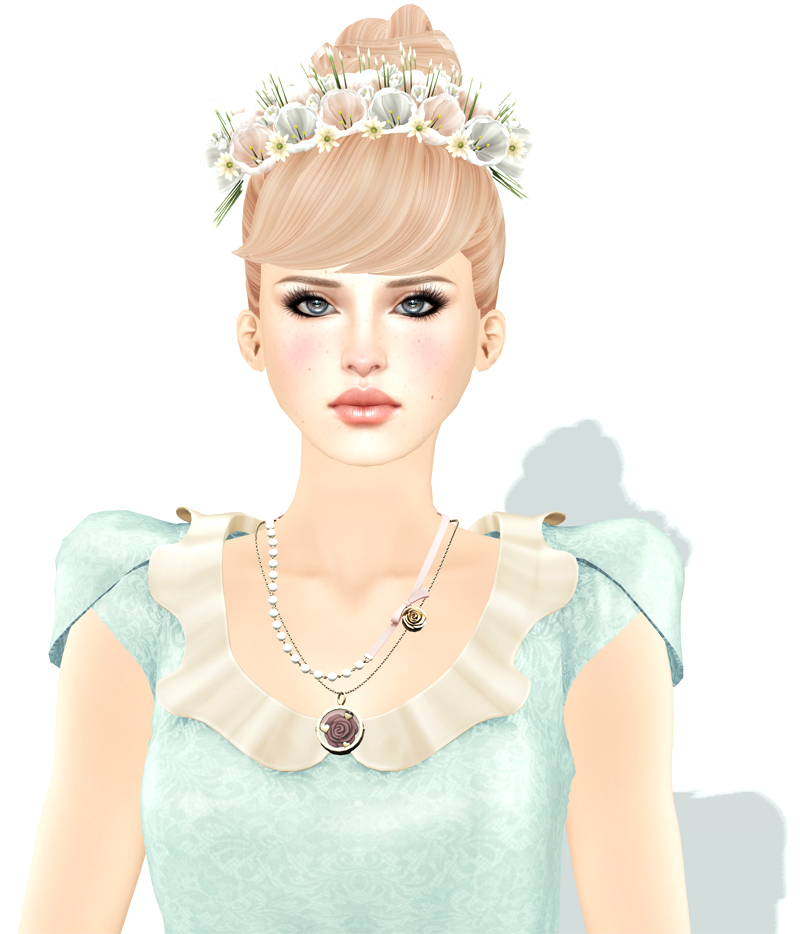 There's so much intricacy here. From the romantic necklace from Atomic, to the lace applique on my leather bag, and stitching on the delicate belt on the dress from Zenith at Shiny Shabby. The sky blue color is remarkably pretty.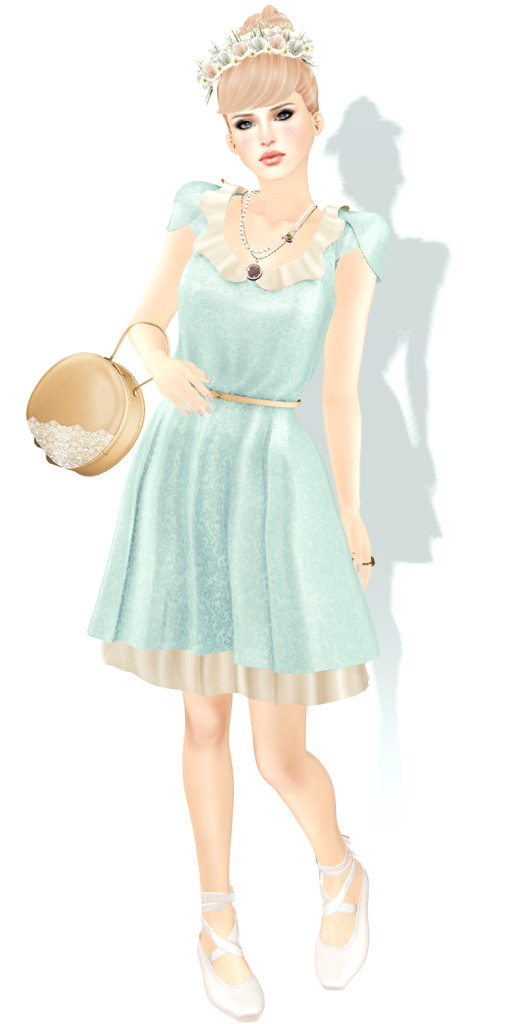 I realized when I was putting together the below look, that I rarely wear jeans in SL. I do wear them in RL very often, so I found that funny. I just love everything about this comfortable, colorful, springtime look for a weekend. The sling bag from Zaara, at Creation.JP, is incredible. She has a colorful clutch on offer there as well (which I have in indigo and it's wow, beautiful). Further down, my rings from AKINI are just spectacularly bright and cheerful. So pretty for spring.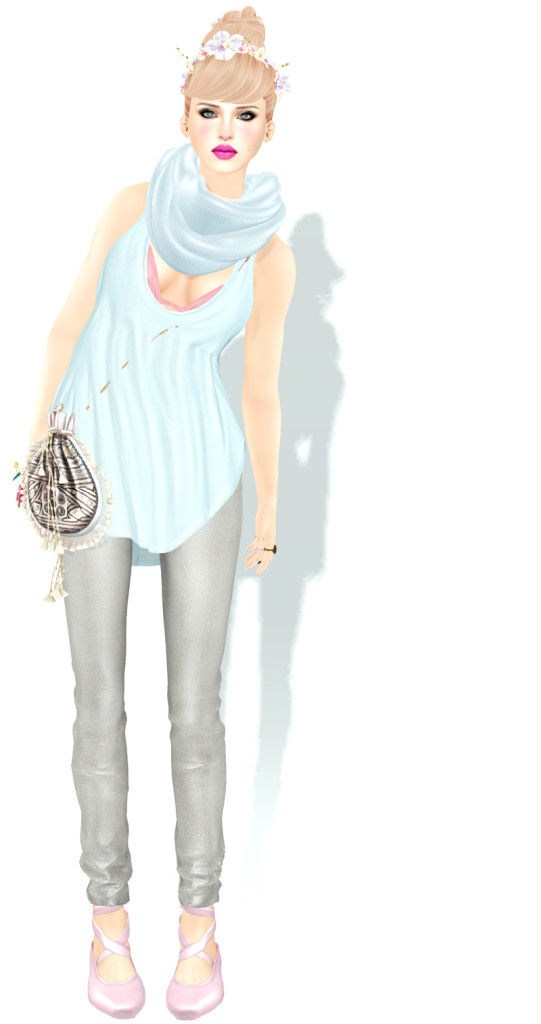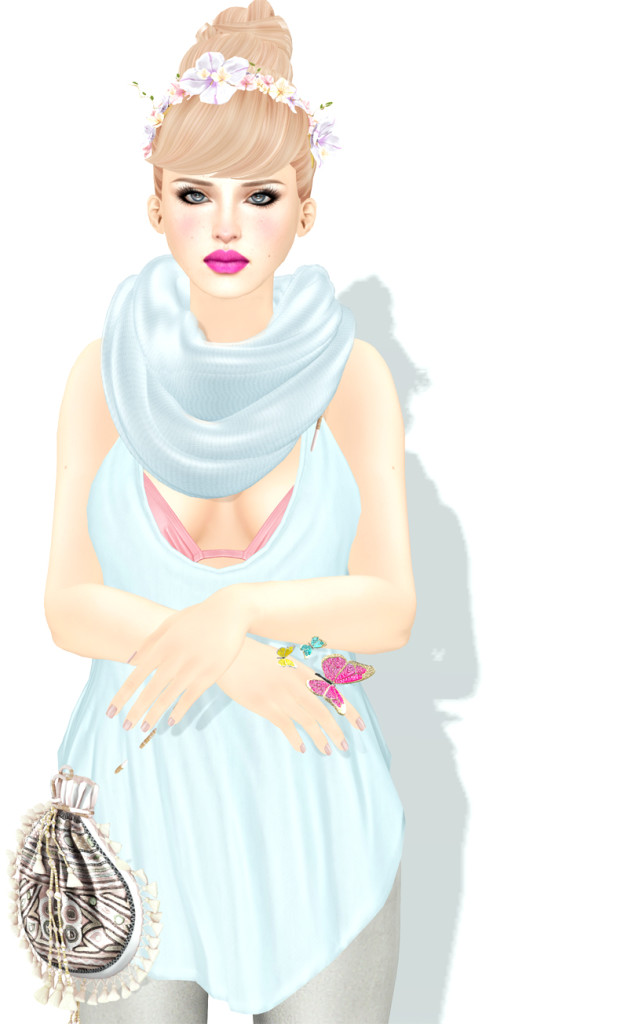 The Looks
In all…
Body: Maitreya Lara
Skin: Izzie's Romy (fair) *@ Skin Fair*
Blush: Dazed Sparkle (25% opacity) *@ Skin Fair*
Beauty Marks: The Skinnery Cristy (rare) *@ Arcade*
Hair: Entwined Bella (dark blondes) *@ TLC* and I am very in <3 with it

#1
Dress: Erratic/Aea Mary Vintage Day Dress (rare) *@ Arcade*
Jewelry: EarthStones Crystal Rain set (acqua) *New @ Creation.JP*
#2
Feet: Slink (flat)
Dress: Zenith Tea Time Dress (sky) *New @ Shiny Shabby*
Necklace: Atomic Sweet Dear Romantic (gacha) *@Arcade*
Bag: Zenith Leather Circle Handbag (cream) *New @ Shiny Shabby*
Flowers: Zenith Just Flowers (rose) *New @ Shiny Shabby*
Shoes: Ama Pointe Flats (nude Slink) *New at The Fantasy Collective*
#3
Lips: The Skinnery Enigma Matte Lipstick 11 *New @ Shiny Shabby*
Rings: AKINI Farfalla Ring (sp) *New @ Creation.JP*
Headband: LaGyo Pastel Flowers
Bra: Tee*fy Joan Bra Top *New @ N21*
Tank: Tee*fy Joan Boyfriend's Tank Top (powder blue) *New @ N21*
Jeans: Ison Coated Denim (silver)
Shoes: Ama Pointe Flats (pink Slink) *New at The Fantasy Collective*