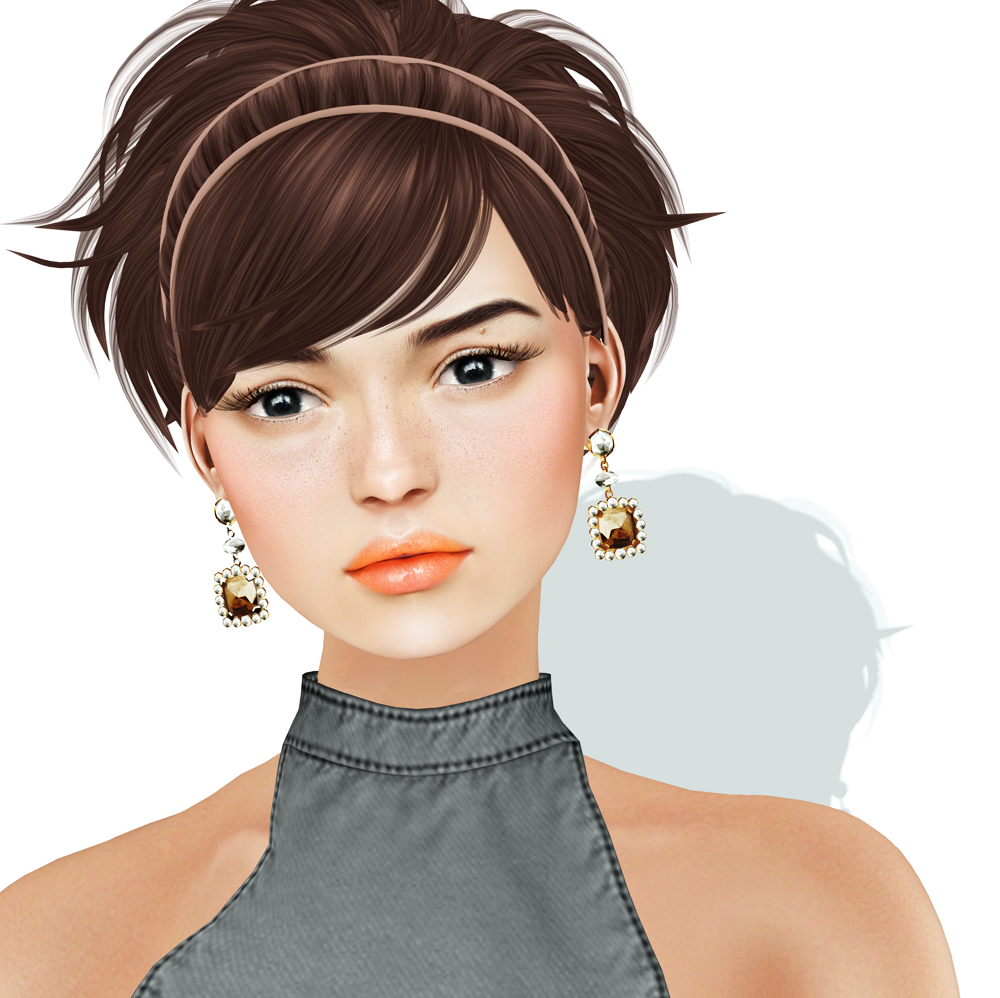 This is Marie 2.0 from Genesis Lab, available at The Chapter Four. Normally if I visit this event, I walk away with shoes or a hair from a gacha maybe. This time I acquired mostly beauty items – from Genesis Lab, Mudskin and The Skinnery. I love new beauty items to play with.
Starting with Marie today, this head is a full-featured mesh head available for $1000L, which is significantly less expensive than predecessors Jiang and Chloe, for example. You get a full makeup HUD (which does have eye position baked in now, yay!) and you can also pick up extra lipgloss colors for $100L. That's the good news.
The not so good news is I still cannot get the eyeliner/eyeshadow to show if I also want to show freckles/beauty marks. Following the instructions on exactly the order to paint the head, I can't show both features, which is disappointing. I had the exact same issue with Chloe so this seems to be a common problem for me. Below on the left, you see only beauty marks/freckles and in the middle and far right, you see the eyes done up (pretty eyeshadows). Lip choices seem to work fine with both. YMMV!
Finally, I hid the lower lashes because no matter what I did, I could not get them to fit properly with the upper ones using the positioning HUD. I am guessing you're supposed to wear their shape for that. But nope, not for me. Incidentally the eyelashes are beautiful. Best I have seen on a mesh head, tbh, and lots of choices via the main HUD.
Bottom Line
Good value for $1000L but still has some glitches for me.
Head: Genesis Lab Marie 2.0 (cappuccino) *new @ TCF*
Hair: Truth Anouk *new*
Earrings: LaGyo Ludovica
Top: Kitja Savana *new @ TCF*
Pants: Kitja Savana *new @ TCF*
Sweater: coldLogic Sweater Ortiz (blue)
Backpack: Zenith *new GG*
Kicks: Flite Lowtop Ducks (white)