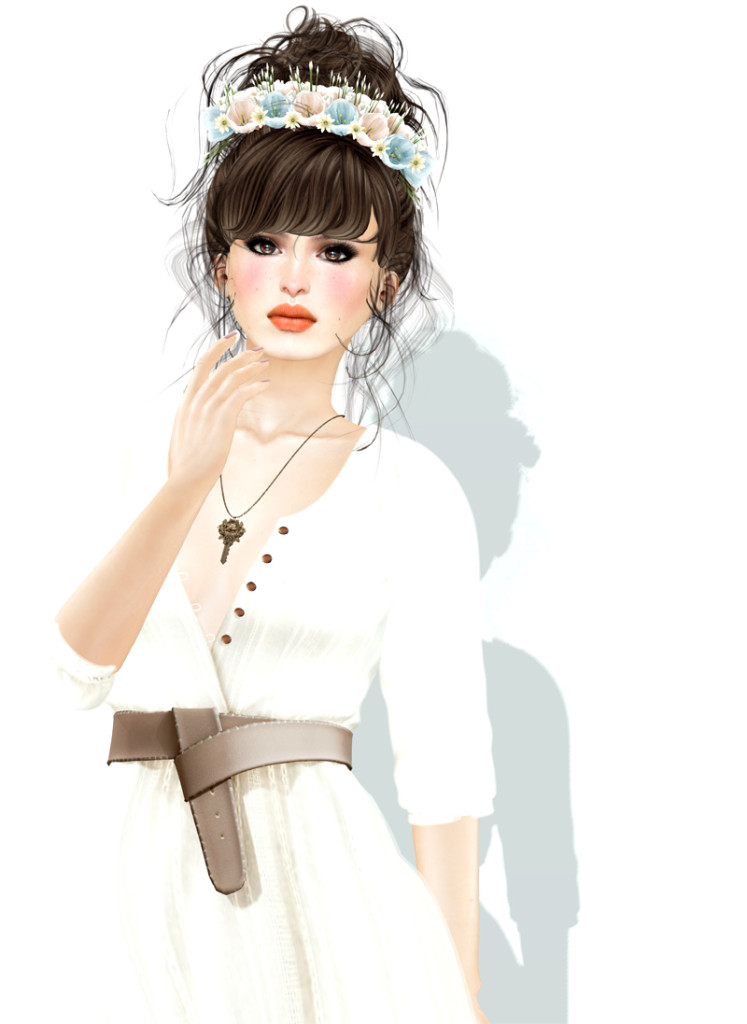 A Friday afternoon and I happen to be home, poised to visit Shiny Shabby once again. And fancy that, it's just as good as last month's. I also exerted a bit more self control this round….well sort of. There were no major skin releases, so that helped.
Starting with a few of my favorites is the farmhouse type dress by B.C.C. The gauzy lace is incredible actually. It really evokes feelings of early summer for me. The belt is color change via hud. So pretty. More D!va hair, which is as intricate as it is casual, and topped with new flowers from Zenith.  My lips are courtesy of The Skinnery, who released 12 matte lip colors. Beautiful.
You can just see boots by Duncan Glano peeking out. The Sydney boots come fitted for Maitreya, Belleza, Slink, TMP and for the default AV, and are very detailed.
A closer look at my Sydney boots. They were pretty expensive for boots that have no change options but they do come in sizes specific to many mesh bodies. I found them to be charming and worth it. My dress is from Drop and is very simple, but perfectly done linen. It "feels" like comfort and once again, I can't help but think of a summer day when only linen will do. By the way, you don't see many linen shift dresses in SL – perhaps because so much fashion here tends to be exaggerated. However, this is just perfect for me.
Finally, a closer look at what is most definitely my favorite hair since last Shiny Shabby, by Tableau Vivant. Their frizzy textures are absolutely incredible. I will be wearing this all the time for a long time, I predict.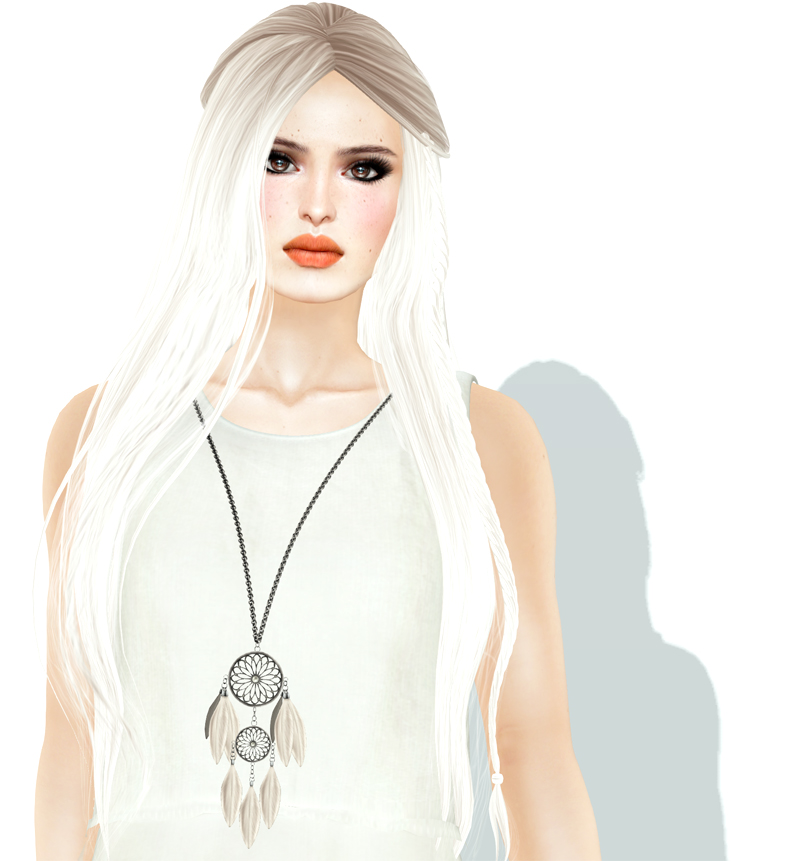 The Looks
Skin: The Skinnery Cristy (shown with rare add ons) *@ Arcade*
Lips: The Skinnery Enigma Matte Lips 2 *New @ Shiny Shabby*
Hair: D!va Nene (brown diamond) *New @ Shiny Shabby*
Flower accoutrement: Zenith *New @ Shiny Shabby*
Dress: B.C.C. Good Feeling Long Dress *New @ Shiny Shabby*
Boots: Duncan Giano Sydney (for Maitreya) *New @ Shiny Shabby*
Necklace: Yummy Key Necklace
Skin: The Skinnery Cristy (shown with rare add ons) *@ Arcade*
Lips: The Skinnery Enigma Matte Lips 2 *New @ Shiny Shabby*
Hair: Tableau Vivant Boho (frizzy chic) *New @ Shiny Shabby*
Dress: Drop Linen *New @ Shiny Shabby*
Boots: Duncan Giano Sydney (for Maitreya) *New @ Shiny Shabby*
Necklace: Zenith Feather Dream Catcher