There are very few Second Life events where I will be so effusive about the content or the experience that I get all hyperbolic. This round – the Daydream birthday round – of Collabor88  is literally the most dreamy of them all. If you're a fan of the soft and feminine, this is your round too.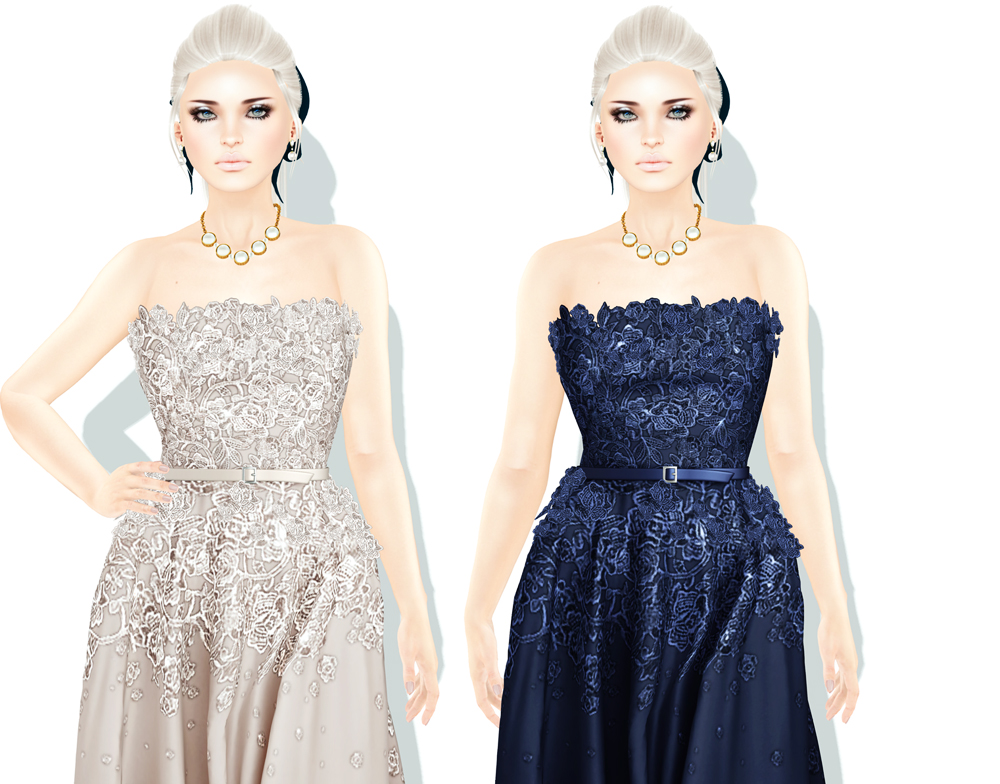 I would just like to say that *this* is the dress I wanted ISON to put out. Longer, romantic, lace and crystals. The Orchid gown is perfect. I would say that this is my ideal dress IRL actually. I have been looking for something like it in SL since my first wishlist.
Yes, I chose mostly neutral colors for these styles – all available at the event, but I did in fact come away with a lot of color too! If you follow my blog, you know I favor neutrals a lot of the time – tans, blushes, nudes and eggshell colors. That is a reflection of the real me on many days. I love a neutral palette and I prefer simplicity to any other stylings.
I came away from Collabor88 with about +500 count to my inventory so there's a ton to blog over time. I have to put it into small, snackable bites when the content is this good.
One note on the event, it's bigger this round because it's a birthday round. At opening, some of the vendors seemed to be experiencing major issues, but today – even though it's full – they seem to be functioning much better. I hope you get in soon!
Skin: Glam Affair Luna Skin (europa 08G) *new @ Collabor88*
Hair: Besom Zim *new*
Necklace: Amala The Pearl Necklace *new*
Dress: ISON Orchid Gown (tan – Maitreya) *new @ Collabor88*
Dress: ISON Orchid Gown (navy – Maitreya) *new @ Collabor88*
Shoes: Maitreya Gold Liaison (blush)
Skin: Glam Affair Luna Skin (europa 08G) *new @ Collabor88*
Hair: [e] Willa *new @ Collabor88*
Slip/panties: Mimikri Chiffon Dress Carine (bones – Maitreya)
Wraps: fri.day Aisling Wraps (antique – Maitreya High) *new @ Collabor88*
Skin: Glam Affair Luna Skin (europa 08G) *new @ Collabor88*
Hair: [e] Lillian
Dress: The Secret Store Nathalie Tutu Dress (nude) with sheer overlay (Maitreya applier) *new @ Collabor88*
Ring: Amala The Lonely Leaf (gold)
Shoes: Rebel Gal Janis Patent Platforms (nude – Maitreya)