One of my favorite colors is orange. A sweet tangerine orange. It's a color that suits those of us with fair skin and dark hair, in particular I think. It's a hard color for everyone to wear, but an easy one to accessorize with no matter your coloring.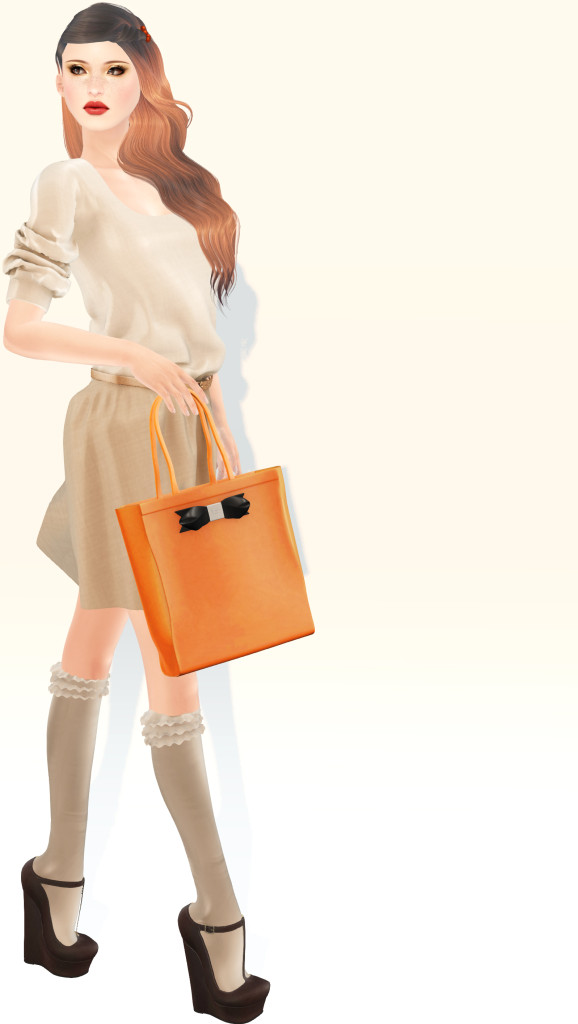 As Springtime creeps into SL (it hasn't arrived at my RL location yet), sweet colors are cropping up everywhere. I created two looks based on this delectable tangerine tone.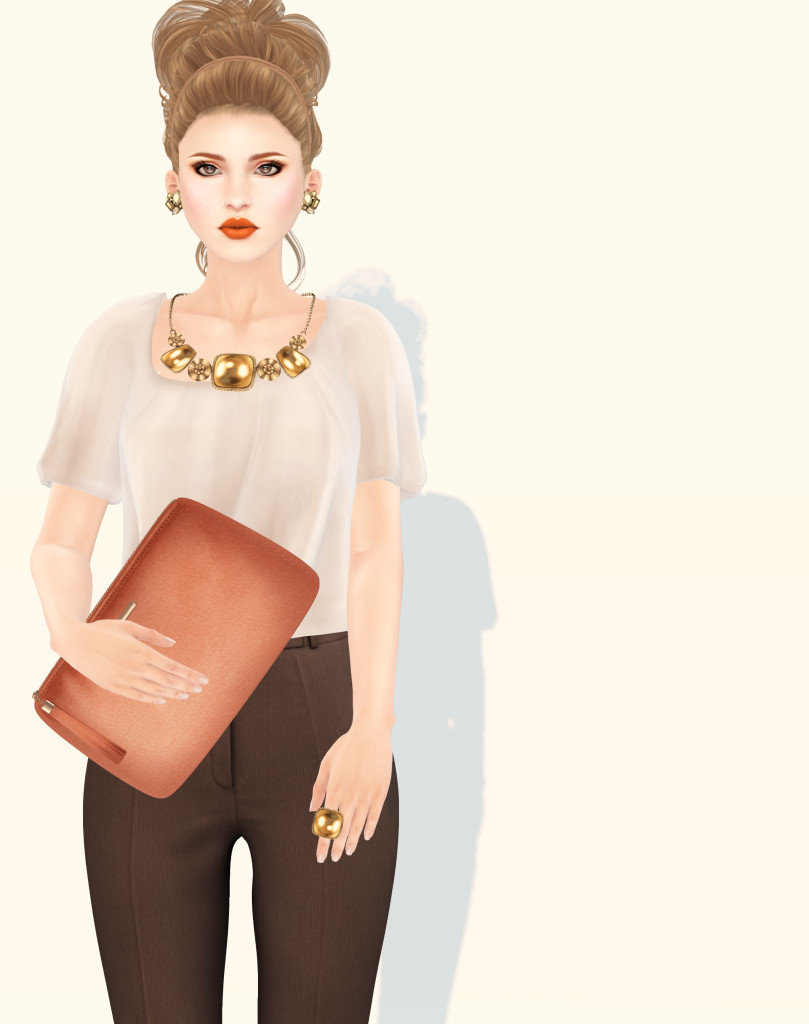 Much of what I am showing here is available at this new round of Fameshed. Some very springy options for those of us longing for a change in season to come more quickly.

The sweet Maria clutch from Glam Affair comes in a range of neutrals and pastels, but does not come with a posed version. The high-waisted trousers from Bueno are very well done and super versatile (I also picked up the houndstooth pair which I will save for another day). The tunic is new and very pretty in bone from Coquet. The T-strap Polly shoes from Just Design come in both patent and leather options for all the major mesh bodies. And finally the hair, new from Damelsfly, was a bit annoying for me to fit and I didn't actually get it 100% right. Also, the color options could be better for me. The equivalent of the variety pack was $450L and didn't have the light and dark colors I wanted so I went for the dark blondes, hoping to find what was actually a lighter brown tone, which I quite liked in the end. It comes with numerous hairbase options and a hud for the hairband accessory as well.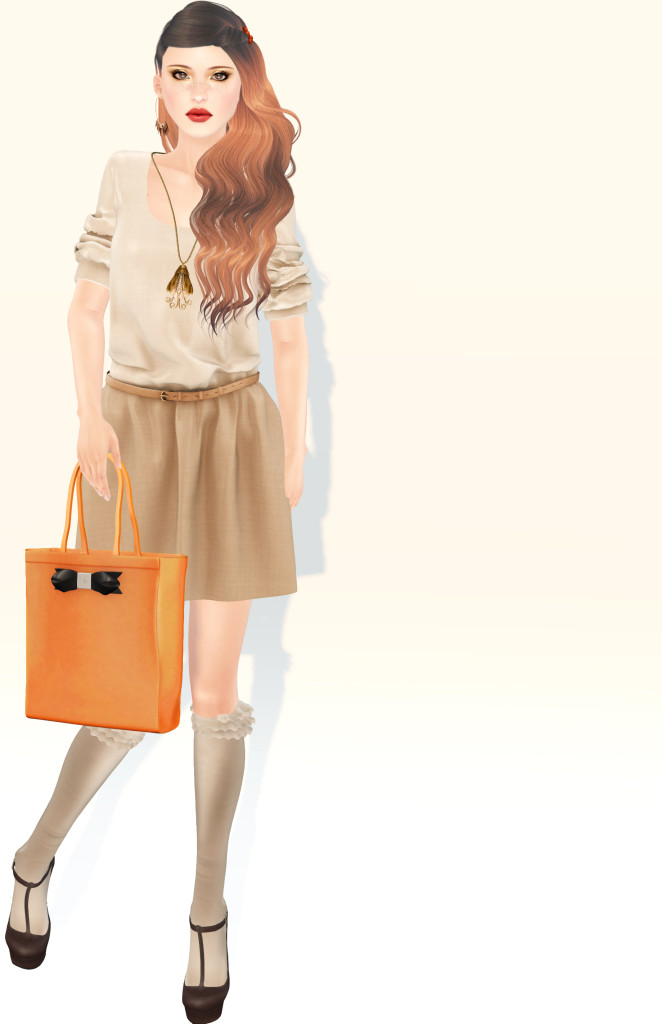 The second look is all based around the tangerine tote from LaGyo. It comes with 2 posed versions and a no pose option so you can actually walk around with it if you like. I love it but do wish the bow was color change. The dress is adorable from Zenith. Once again they capture incredible detail and feel for the fabric. There are very springy options available, but me being me, I stayed true to my preference for a neutral palette, especially when accessorizing with a bolder color. Instead of using the socks that come with the Just Design Polly shoes, I added the frilly socks from Atomic that you can find at Uber. My hair is also new from Little Bones, called "Latte" with a small, color change accoutrement of sweet, little berries.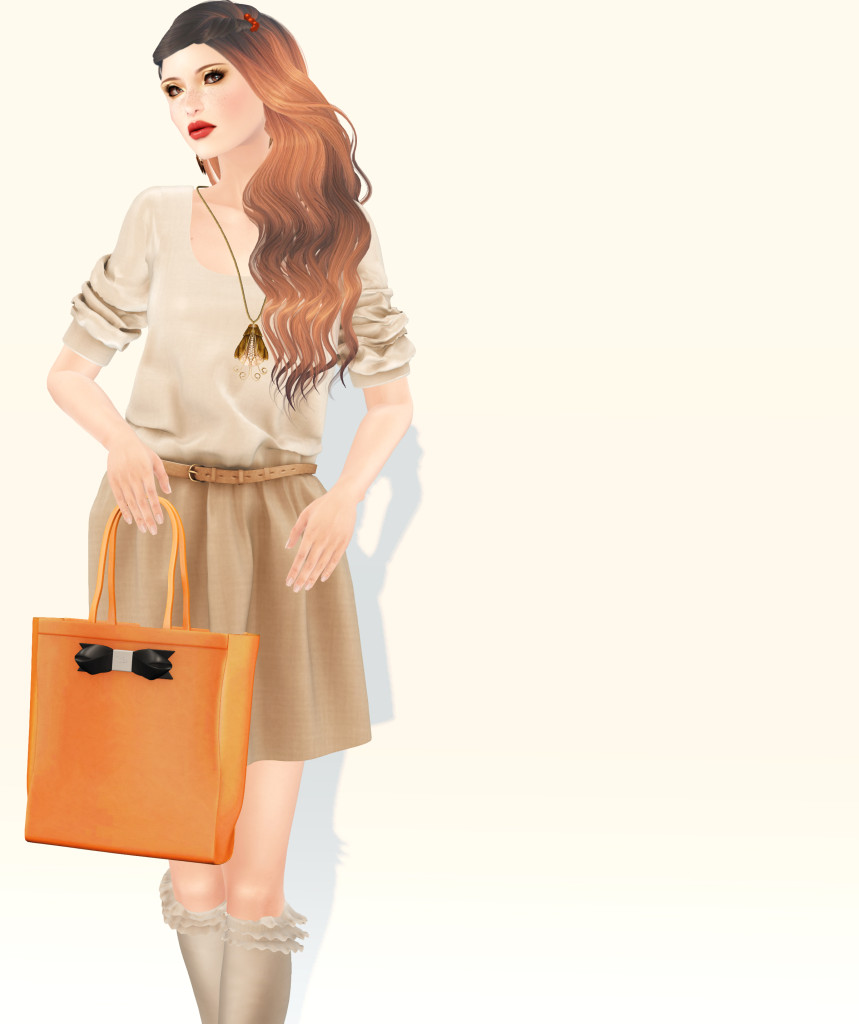 The Looks
#1
Body: Maitreya Lara
Skin: Glam Affair Alice Cygana 04 (Asia) *New at Uber*
Hair: Damselfly Morrsy Non Rigged Mesh + hair base *New at Fameshed*
Eyes: Ikon Hope (Scoria)
Lips: Izzie's Qopi Matte (orange)
Top: Coquet Breeze Tunic (bone) *New at Fameshed*
Trousers: Bueno Debra pants (cafe) *New at Fameshed*
Shoes: JD Polly Maitreya Patent (nude) *New at Fameshed*
Clutch: Glam Affair Maria Clutch (orange) *New at Fameshed*
Necklace: Zenith Geometry Stone necklace (light gold)
Ring: Zenith Geometry Stone ring (light gold)
Earrings: Mandala Polly Mink (gold)
#2
Body: Maitreya Lara
Skin: Glam Affair Sia 05 (Asia)
Freckles: Deetalez Chocolate Splits
Hair: Little Bones Latte *New at Fameshed*
Eyes: Ikon Hope (Scoria)
Dress: Zenith Springtime Casual Skirt (deep milk and beige) *New at Fameshed*
Tote: LaGyo Marinella Bag (tangerine) *New at Fameshed*
Shoes: JD Polly Maitreya Leather (earth) *New at Fameshed*
Socks: Atomic Frilly Socks (taupe) *New at Uber*
Necklace: Kunglers Extra Elenyr Necklace (golden) *New at Cosmopolitan*
Earrings: Glam Affair Nina Hoops (gold bronzed)