This look – simple as it is – completely lifted my spirits. Summer fresh and perfect for this midsummer day. Obviously this BoM skin for LeLutka is the focal point. She really needs so few accessories, although you will note another perfect hoop from the new earrings pack from (Yummy) blogged here.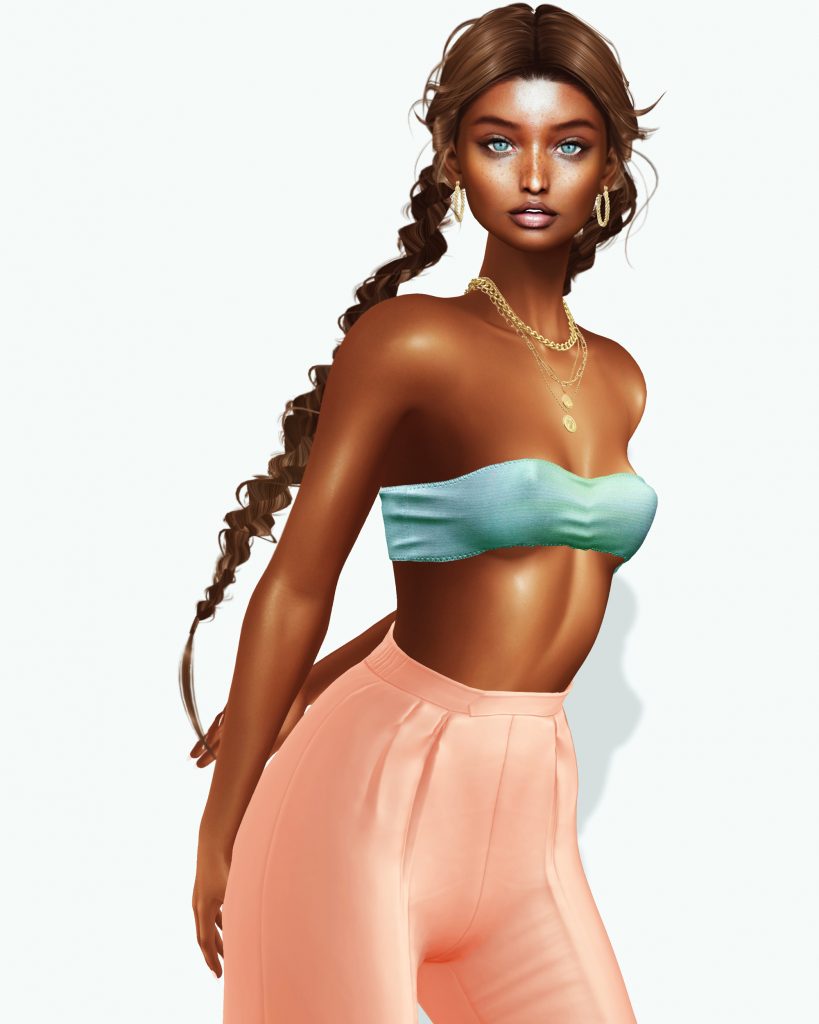 I added freckles, new from The Skinnery at Anthem, and set it all off with another winner from Hair Fair 2022 from Monso. BTW, I am not blogging other hairs until I make my way through my Hair Fair haul, with items benefiting WigsForKids, an organization providing critical services to sick children who have lost their hair from medical treatments. Hair Fair is open for a few more days!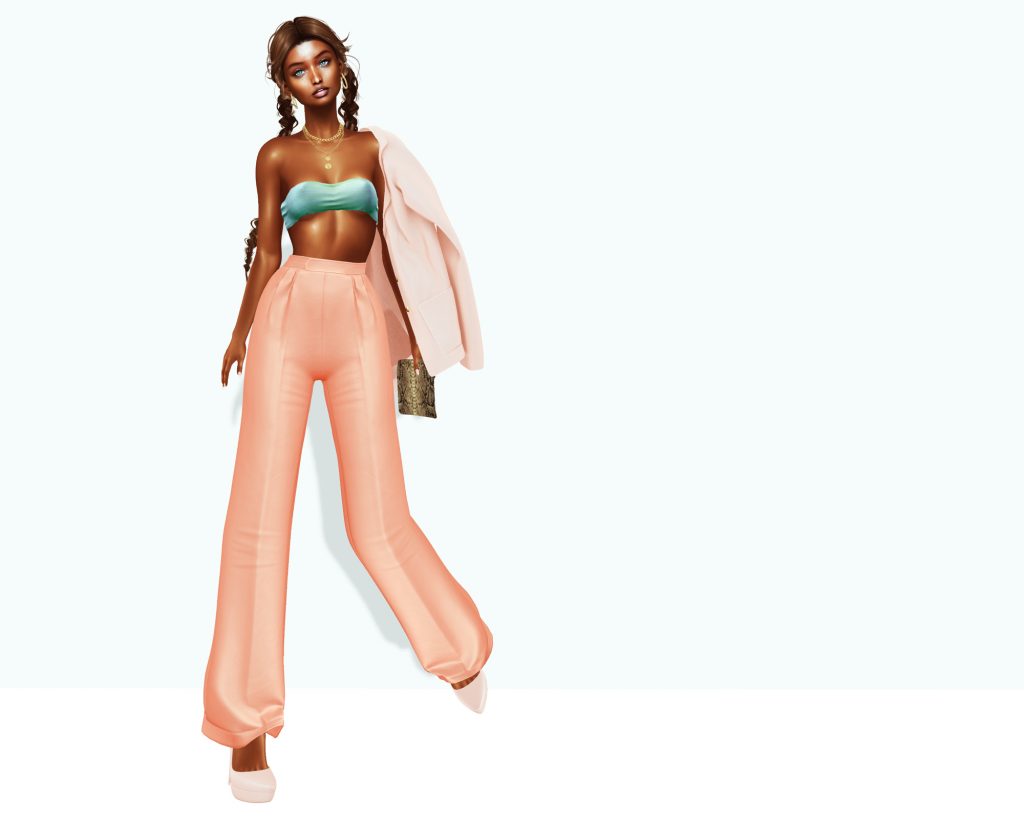 My trousers are new from Pixicat at Fameshed. If you want these in this pretty peach texture, you have to pony up for the fatpack. These are a cut I will wear again, so I went for it with only a slight pause. My gradient bandeau top is new (a bikini, actually) from Stories & Co., also at Fameshed. There was no fatpack option! I picked it up in three colors and would really like a white/iridescent style – and please, a fatpack option for next time.
Speaking of which…until next time…
xoxo
---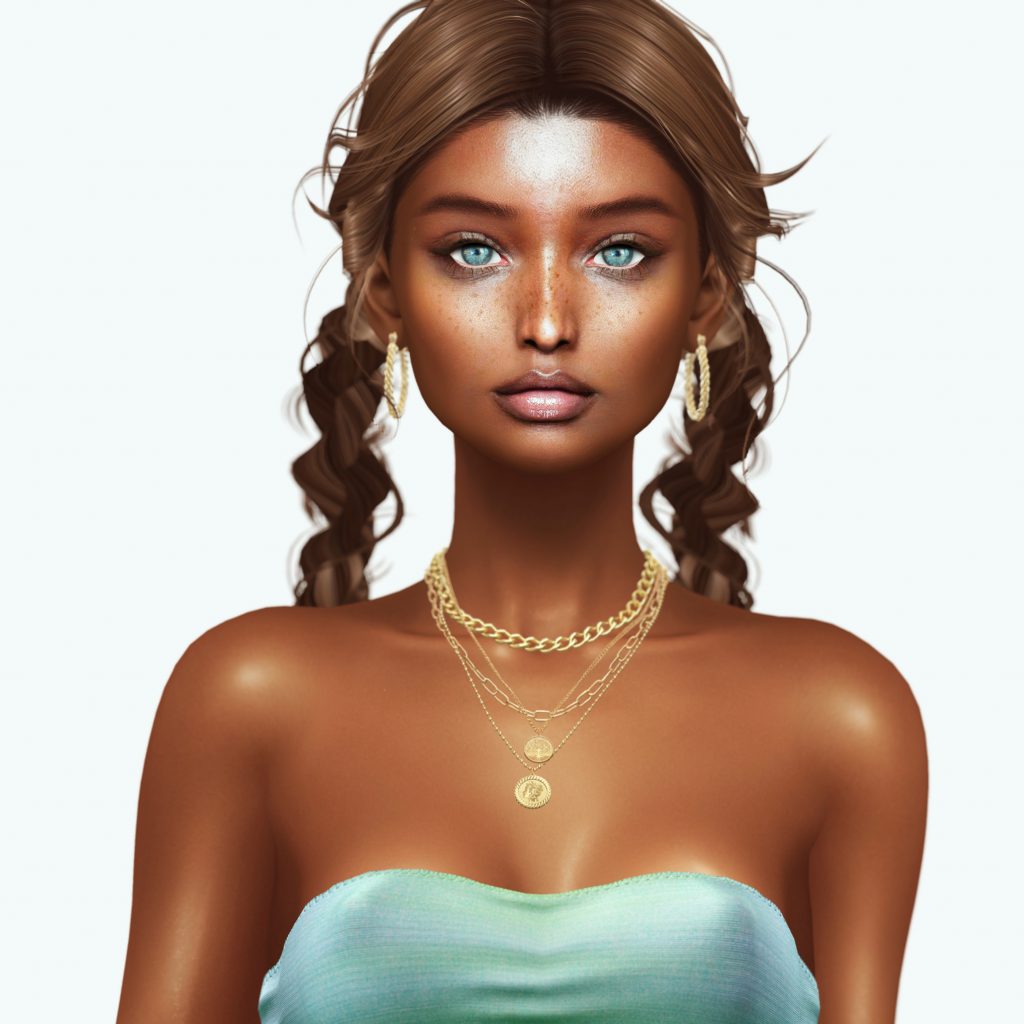 Summer Fresh
Head: LeLutka
BoM Skin: Nonnative Zeri (brownie)
Eyes: Lotus
Freckles: The Skinnery Ballad Freckles **@Anthem**
Hair: Monso Aurora **@Hair Fair**
Earrings: (Yummy) Hoop Set – Small Twist **@Fameshed**
Necklace: TETRA – Vanity necklaces
Top: Stories&Co. Gia Bikini Top – Aqua **@Fameshed**
Trousers: Pixicat– Alex Pants **@Fameshed**
Heels: Salvadori – Nude 'Baker' Platforms
Blazer: C'est la vie Rosie (set #2)
Clutch: Bleich Veleno (Python)