While I'm not quite ready to pumpkin spice everything just yet, I am happily celebrating the beginning of September. Traditionally a great month for fashion IRL – buuuuutttttt perhaps less so these days in SL? Maybe later in the month it will pick up for me. Until then, I continue to collect some really great BoM skins for LeLutka Evo-X. No shortage of good inventory there!
I did find this great corset fatpack from (fd) – available in both Perky and Petite sizes – for a great price @Fameshed. I have stopped buying anything that doesn't have petite sizing options. Sadly for now, that leaves out several brands I typically love to wear. Hopefully they will update in the future.
I'm also struggling to enjoy necklaces that aren't fitted for a specific body. Kibitz necklaces – which I have blogged dozens of times – no longer fit my avatar at all. But I still love the styles so I try to fit them to make them work. I suck at that.
I'll be away all this week and maybe even next week, depending on the weather. The beach in early fall is the BEST even when I am working.
xoxo
---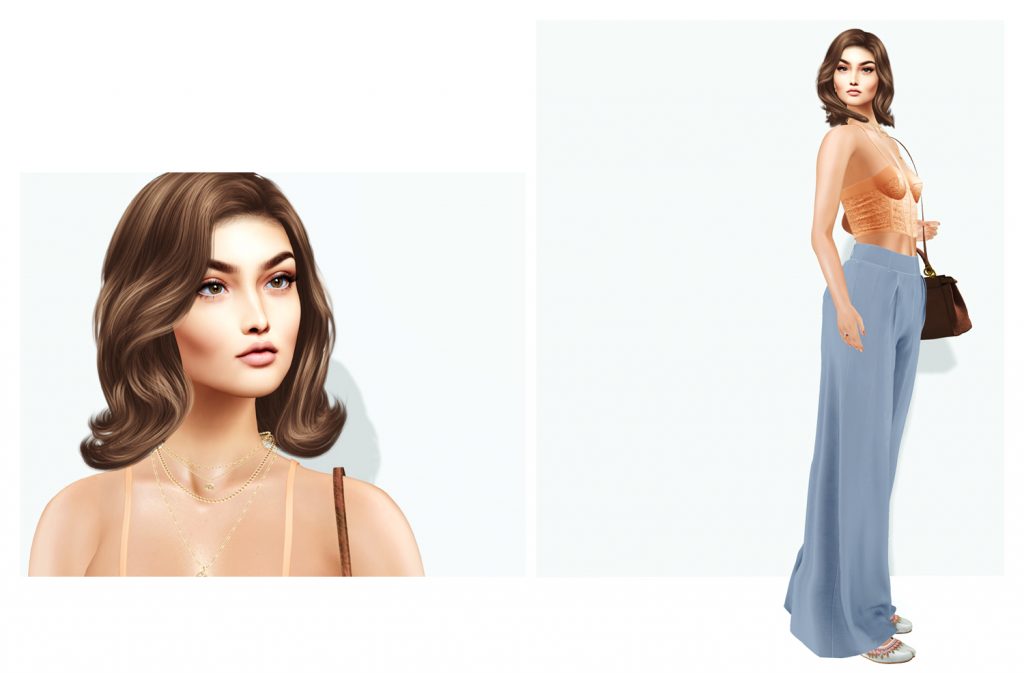 Head: LeLutka
BoM Skin: PUMEC
Hair: Stealthic – Gambit
Necklace: Kibitz – Eliana's necklace – fatpack
Earrings: (Yummy) Jamie Earring Collection **@Uber**
Corset: (fd) Embossed Corset – FATPACK **@Fameshed**
Trousers: COCO PleatedWideLegPants (BlueGrey) **@Uber**
Flats: Zaara : Padma Mojari flatsBag: [DDL] 1979
Nails: (NO) Art Nails – Almond – Summer 2 Fall **@Uber**
Rings: Orsini