Some of the items I have newly acquired all in one place!
With a bunch of new events coming up (I am looking at you, Uber and Arcade), I wanted to make sure some of these special items didn't get lost in my inventory, which this time around, I am working very hard to keep very small. I am truly being ruthless in cleaning things out. It's the only way to keep track of what I have that has legs for reuse…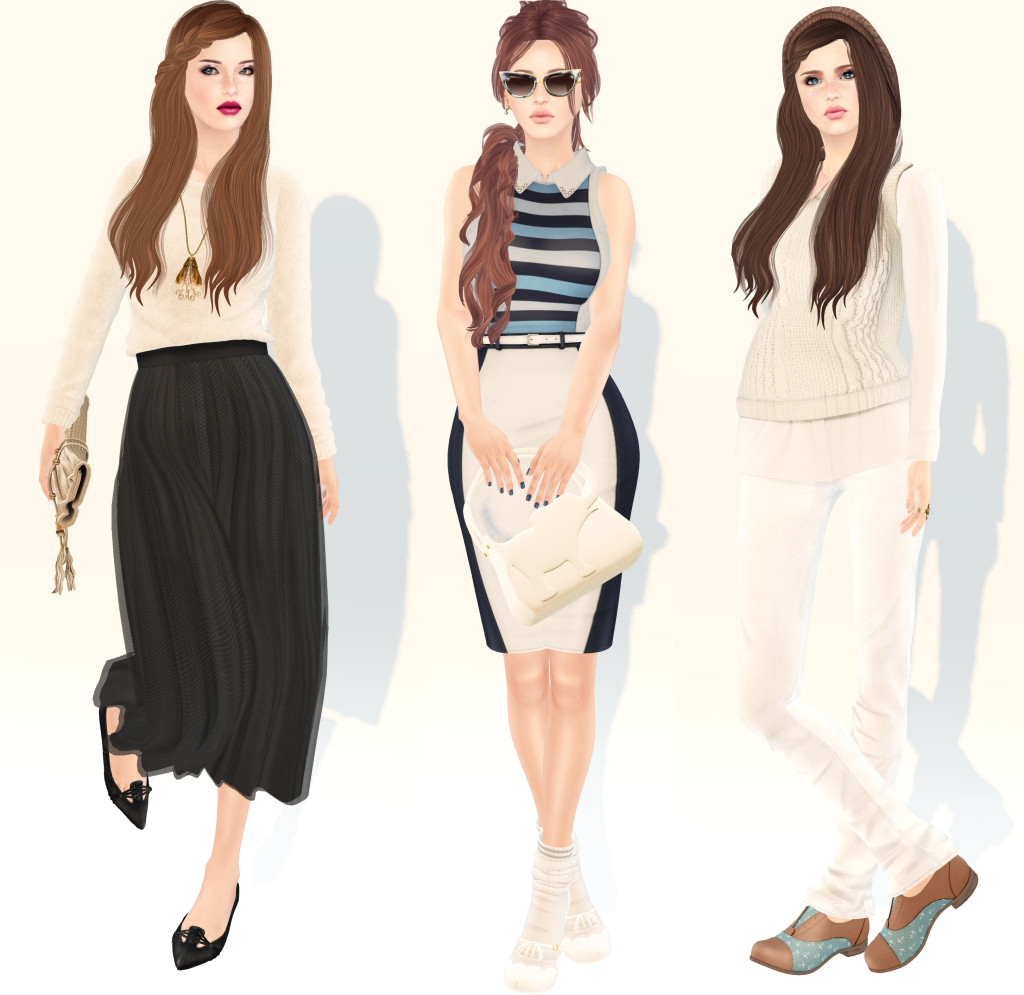 Every outfit I have on contains pieces I love so much. Especially exciting are several "new to me's." I love discovering new (to me) brands and relish seeing designers grow over time.
Speaking of reuse, I did – as threatened – pick up another color of the UFO sweater and tulle skirt from Shiny Shabby. I really adore this ensemble in every way, particularly the longer length. More please! I also love this new necklace from Kunglers, available at this round of Cosmopolitan. It's like a beautiful golden ladybug about to take flight.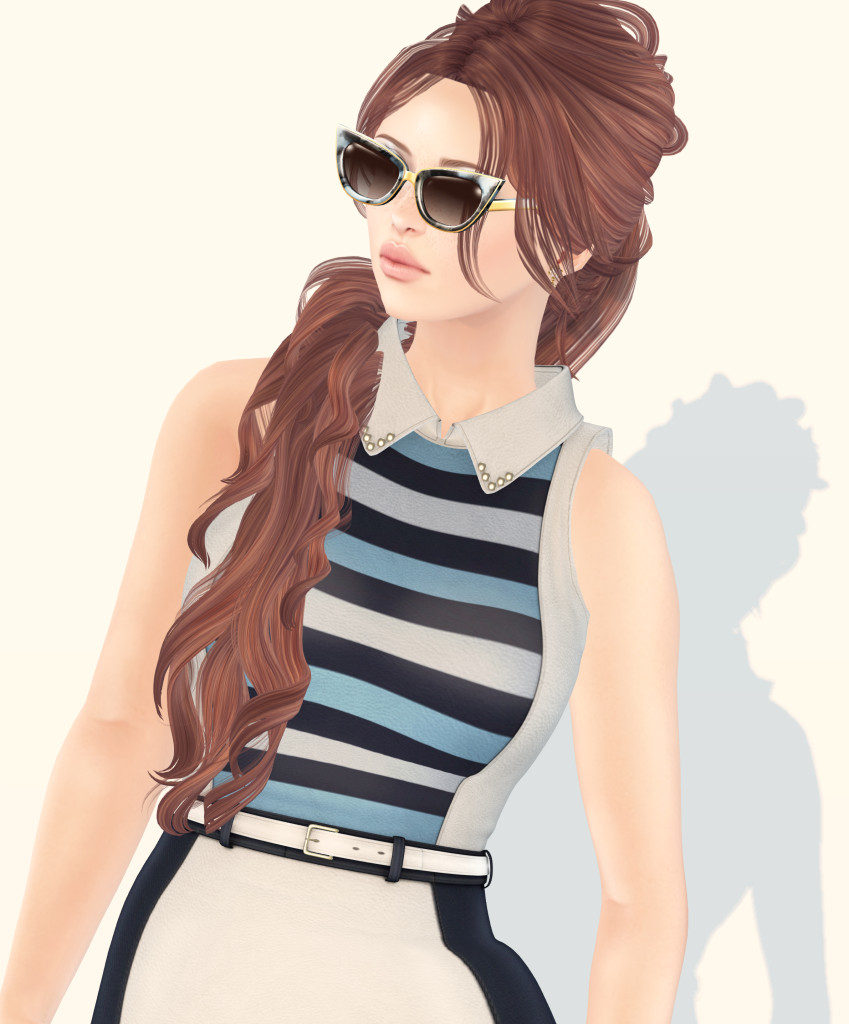 Catwa hairs are so interesting and super economical. I mentioned in another post how many tones you get in one hud for one small price. Love. I also found these glasses weeks ago at the Trend event. They're by Garbagio, a brand I have seen from time to time but never purchased from. Finally, the outfit is from a designer called "NS" and it caught my eye while browsing the Cosmopolitan event. I want to stress that the ad is what drew me in, as it featured a blogger I find very stylish, Matilda Soon. I love that she is both showcasing and poking fun at fashion. Tongue and cheek style is the best kind. The dress has some nice detail and comes in a few different color/style options.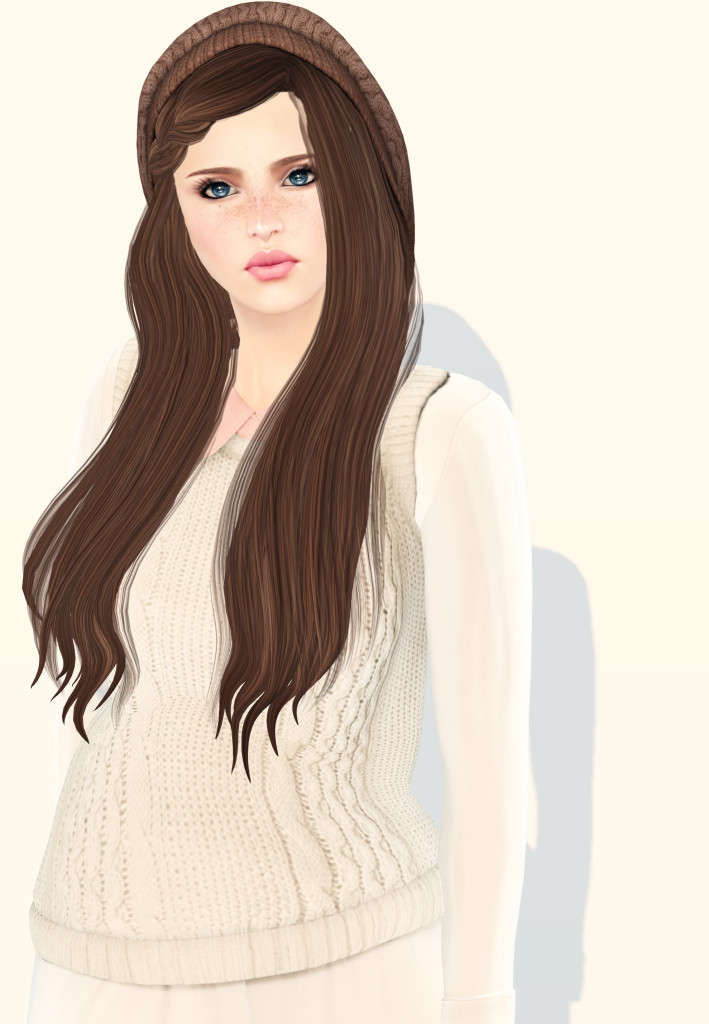 I am wearing a skin from Atomic here, but the lips are courtesy of Izzie's. I have many packs of lip tattoos (and teeth tattoos btw, which I prefer to mesh mouths because they do not need to be post processed and I won't do that for blog posts!) from Izzie's, as well as tons of tights, that I use regularly to augment my skins and outfits. Anytime I need an add-on or accessory, it's the first place I check. I appreciate that I can use her tattoos from the Qopi skin on most of my other skins AND all her tights, stockings, etc. come with appliers for a variety of mesh bodies. Thank you – it makes getting dressed so much easier <3
My cute hairs on the left and right are new at N21 by !Oleander, which I discovered back in January and am so happy to see more from!
The Looks
From Left to Right
#1
Skin: Glam Affair Coral (Asia) Chic 01
Eyes: Ikon Promise (black)
Hair: Oleander Oz *New at N21*
Dress: UFO sweater with long tulle skirt (black) *New at Shiny Shabby*
Shoes: Pure Poison Emma Flats *New for 21Shoe*
Clutch: Zenith Tight Clutch Cream
Necklace: Kunglers Extra Elenyr Necklace (golden) *New at Cosmopolitan*
#2
Skin: Glam Affair Sia II Ice 02 (Asia)
Hair: Catwa Aimee (ponytail and skull) *New*
Dress: NS sailor dress *New at Cosmopolitan*
Shoes: Cila First Love (pure) *New at L'accessoiries*
Glasses: Garbagio Cateye Shades (ocean) *New*
Bag: Miseria Ely tote (cream)
#3
Skin: Atomic Song Hibernate (sugar)
Lips: Izzie's Qopi Natural Lips (pink)
Eyes: Ikon Hope (midnight)
Hair w/hat: Oleander Willow *New at N21*
Top: Tee*fy Elan Wool Vest Shirt (offwhite)
Bottom: Monso My Cotton Jean (white)
Shoes: Ingenue Danja Oxfords Maitreya saddle *New for 21shoe*