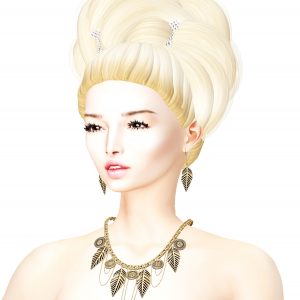 Here's one last look. For Skin Fair that is. Today is the last day you can take advantage of all the Skin Fair exclusives, so make sure you get in your last licks. For mine, I chose this pretty skin from Deetalez – Flora. Once again, I am wearing Flora on my Korina LeLutka head as a BoM layer.
Elsewhere, I was smitten with this pretty organza corset dress from Rowne. It's available at Uber and was just about the only thing I picked up – in addition to these heels from Baiastice in a couple colors, and this jewelry set from Kunst. I'm just not finding a lot that inspires me in SL fashion lately. Maybe it's because everything IRL is so utterly f'd? Hopefully this too shall pass.
Unrelated: Any news on if/when older LeLutka heads will be upgraded to Evolution? I really only care from a makeup perspective. I'd like to be able to use the new HD technology too.
xoxo
---