While I prefer fitted or longer styles usually, I can't deny the lure of a flouncy skirt.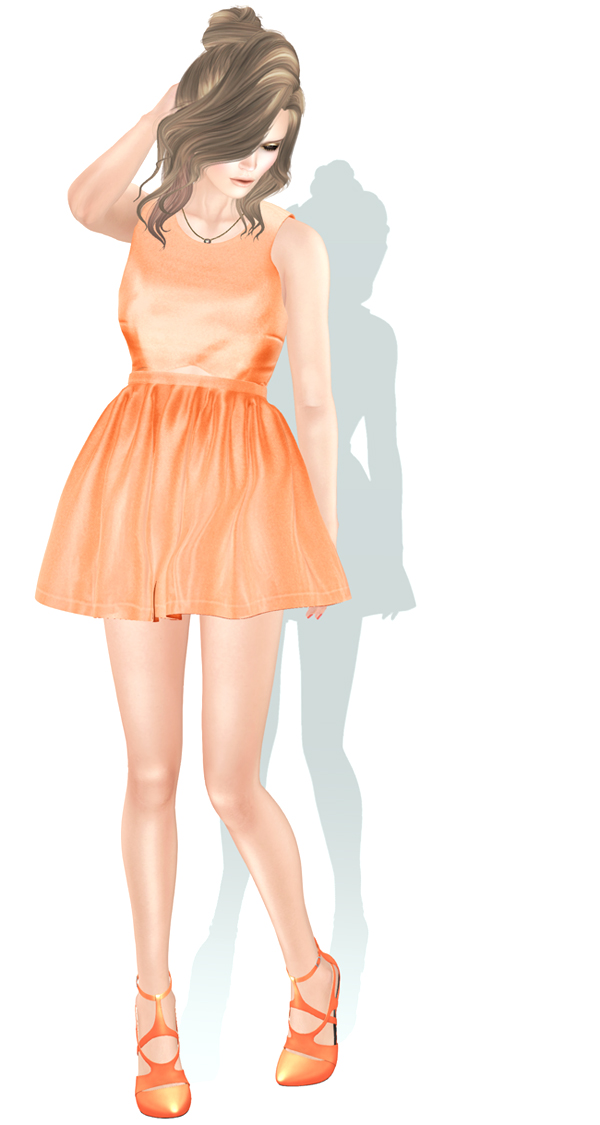 So many good releases featuring this younger look. And coupled with gorgeous pops of tangerine and pink, they're a suitable prelude to summer…or my trip to Dallas today!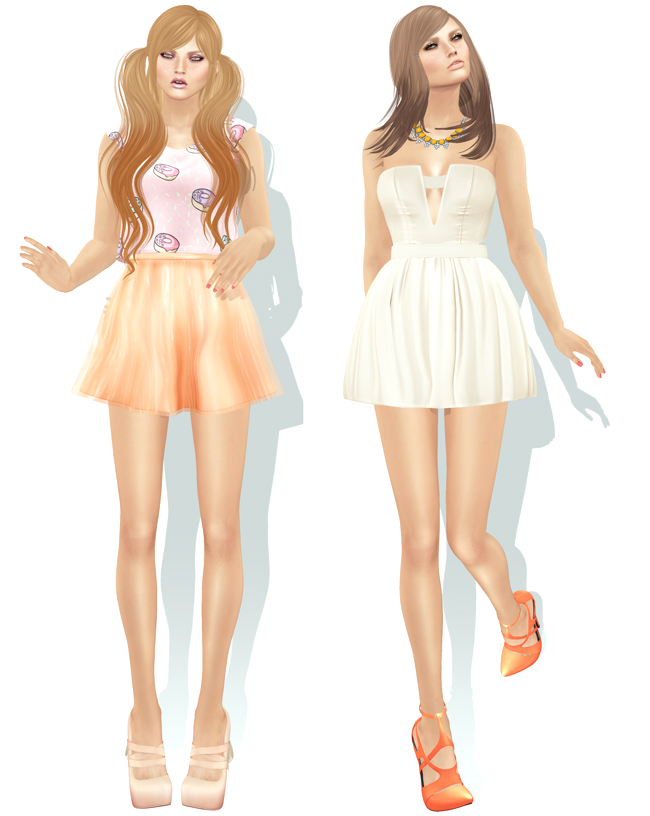 I <3 Fri.day heels. The new ones at Uber come in the absolute best orange ever.
The Looks
Head: LeLutka Ever1.1
Skin appliers: Glam Affair
Eyes appliers: Izzie's *new*
Lips appliers: Glam Affair
Eyes: [Buzz] Celestial Honey
Hair: Olive The Bette (streaks) *new @ Uber*
Dress: Tres Blah Cutout Skater Dress (orange) *new @ Uber*
Shoes: Fri.day Oakley (heat – Maitreya) *new @ Uber*
Necklace: Yummy Shining Crystal (gold)
Head: LeLutka Leda 1.1
Skin/lipappliers: YSYS *new*
Eyes appliers: Izzie's *new*
Eyes: [Buzz] Celestial Honey
Hair: Truth Suki *new @ Uber*
Top: Atomic Electric Cutie (set 2) *new @ Uber*
Skirt: Atomic Electric Cutie (set 3) *new @ Uber*
Shoes: Fri.day Cora (peach – Maitreya)
Head: LeLutka Ever 1.1
Skin appliers: YSYS *new*
Lip appliers: Glam Affair
Eye appliers: Izzie's *new*
Eyes: [Buzz] Celestial Honey
Hair: Truth Malea *new*
Dress: Tee*fy Nadya (creme) *new @ N21*
Necklace: Yummy Neon Crystal Necklace (orange) *new @ Uber*
Shoes: Fri.day Oakley Heels (heat – Maitreya) *new @ Uber*