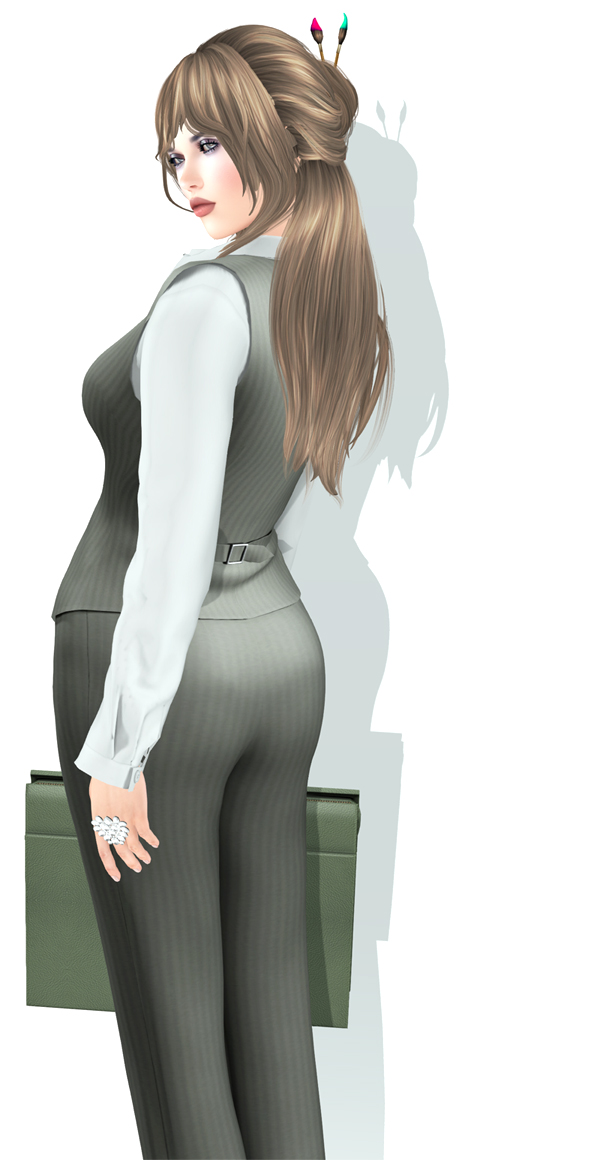 My cute hair which I forgot to pose with my hair roundup yesterday is from Olive. The paintbrushes have an on/off hud, although mine was not working for me. I wouldn't want to hide them anyway because they are very sweet.
This morning I went back and grabbed redelivery of my LeLutka mesh heads, so I could start fresh with the make-ups and see whatI was doing wrong to always have the same thick eyeliner despite using different make-up appliers. Needless to say, it sort of worked messing around with the different huds (the main one, the basic eyeshadow applier hud and the makeup applier hud), although if there is a way to just go back to your "out of the box" look from the main hud, that would be amazing for me. I am quite sure I did not do it right. so I will have to mess around more later.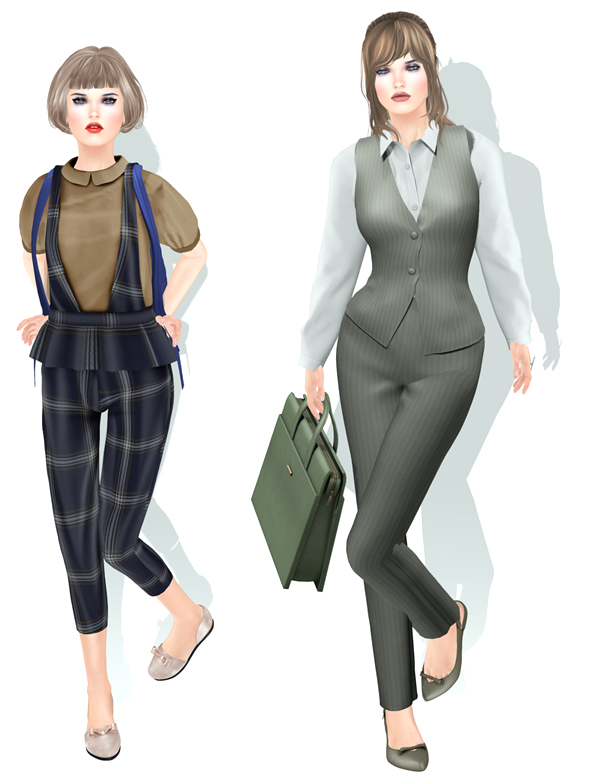 I guess one could be a teacher, and the other a student! I picked up a couple of outfits at the Xiasumi school festival in addition to so many hairs. Luckily, they were not all gachas, because I inevitably choose the wrong size every time with those.
I have great expectations of some good shopping days this weekend ^^
The Looks
Head: LeLutka "Ever" *new*
Makeup: Glam Affair appliers *new*
Hair: Olive The Donut *new @ xiasumi school festival*
Top: NYU Vested Shirt (grey) *new @ xiasumi school festival*
Trousers: NYU Tapered Pants (grey) *new @ xiasumi school festival*
Shoes: Ingenue Cecily Flats (moss)
Bag: David Heather Cognac Tote (moss)
Ring: LaGyo Mackenzie ring (silver)
Head: LeLutka "Aria" *new*
Makeup: Glam Affair appliers *new*
Hair: [INK] Sakura (beige) *new @ xiasumi school festival*
Outfit: {amiable} Check Peplum Salopette Pants & Blouse *new @ xiasumi school festival*
Backpack: {u.f.o} solji school backpack (blue leather) *new @ xiasumi school festival*
Shoes: Candy Doll Nomi (cream)