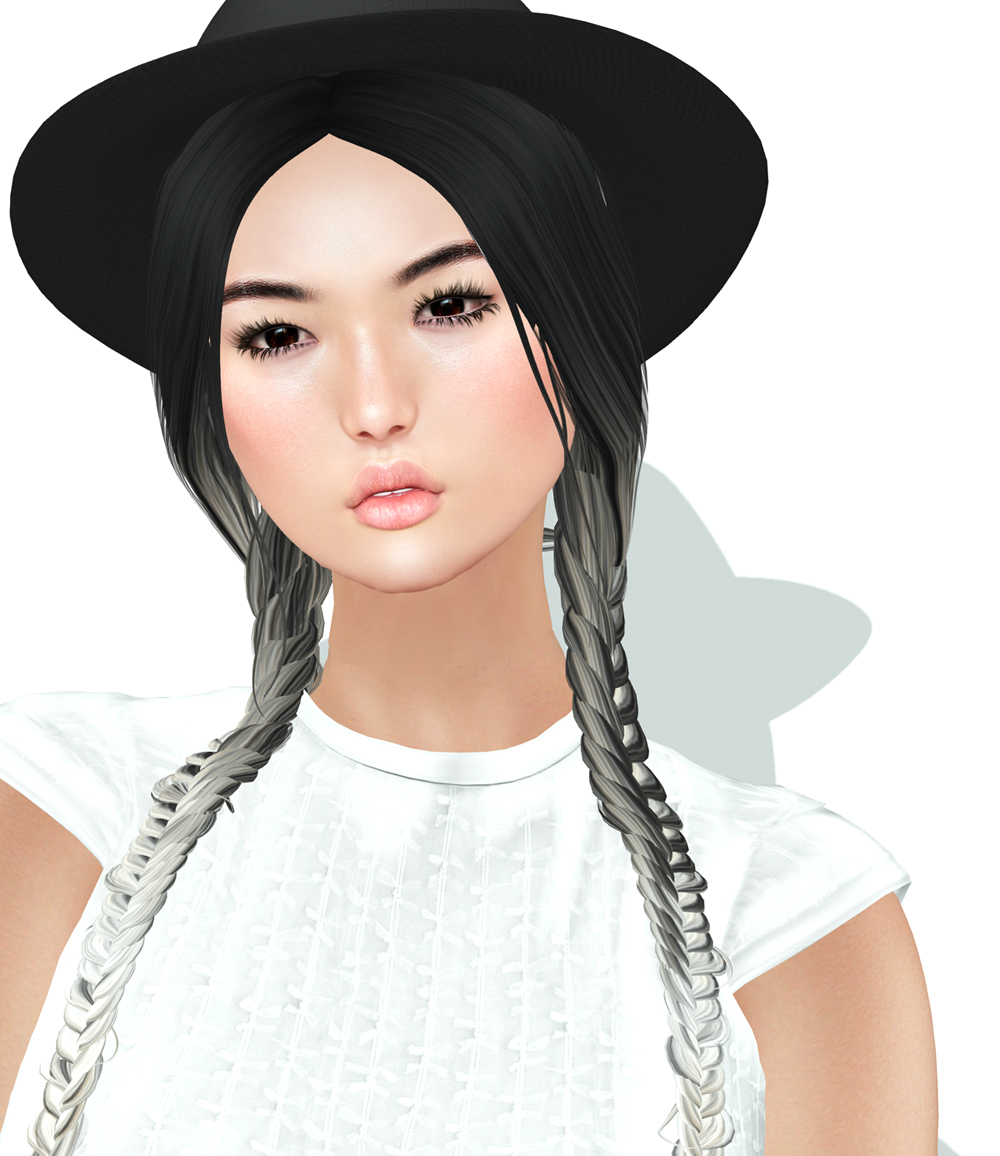 This is going to be rather long so feel free to skip to the end for my TLDR summary.
I am going to start with the things I like about Jiang, available now from Genesis Labs at Shiny Shabby. Firstly, she's beautifully interesting to me. I knew as soon as I saw the previews that I would like her. She's remarkably striking. Secondly, she's so well made. The quality of the actual head is exceptional, no hyperbole. I am very, very impressed with how this artist has seemingly burst onto the scene and created so much excitement, offering SL beauty mavens another option in the ever more popular mesh head market. She also comes with every major applier you could want now that they have added Belleza body appliers as standard in the head packs. You can basically wear her "out of the box."
What You Get

With your purchase, you get Belleza body appliers, as well as Maitreya Lara appliers, Slink hands and feet, and other common mesh body part appliers. You also get one skin HUD – a "rainy" skin/makeup combo, with 8 different eyebrow colors and various HUDs for controlling the blinking eyes/eye position and removing lipsticks and hairbases. None of these are baked into any central HUD so there's a lot of parts in the pack and you'll want to take time to see what exactly is included. You'll also find ears, eyes, and teeth which you will need to add on piecemeal for some reason. Lastly, you will find a shape labeled "WEAR IT – for eyes." More on this later. Also a warning: the eyes are inexplicably no copy. So take care when editing them >.<
My Take
I have mentioned before that these are expensive products IMO. Like the recent release Chloe, this head is $2500L. That doesn't include any skin tone choices or makeup customization options at all. As I said above, it does include many appliers, which I have been a huge proponent of. It's very smart. However, for that price I would expect to have a more integrated product in terms of ease of use. With LeLutka mesh heads I am spoiled because I can control virtually every basic function from one place, the central HUD. Then I can further customize with the MANY makeup/skin appliers available across the grid from dozens of creators. With this head, you have to attach several different HUDs to change your eye position, turn on/off the blink, and clear any existing lip colors. You also cannot close the mouth. It's a little tiresome, so in future releases I hope to see these functions mostly centralized.
The hardest part about using the head is the eyes. The shape that is included in the pack will ensure that your eyes fit perfectly. But for me, I'm not interested in wearing a shape that isn't mine. So I edit the eyes and go with it. Your mileage may vary!
Finally, there are several other add-ons available for purchase. There are 2 skin appliers each available for $500L. It's unclear to me if they will work on other Genesis Labs heads. I haven't tried. Then you can also buy lipstick appliers for $200L each. So all in, you're looking at at least $3200L if you want to try at least one other makeup look on your head. That's an investment and should, IMO, be more polished.
TLDR: If you have Lindens to burn, by all means go for it. I wasn't disappointed in how she looks at all. In fact, I find Jiang charming, beautiful and incredibly realistic. But for the price, the HUDs and various other "parts" should be more polished.

Head: Genesis Labs Jiang *new @ Shiny Shabby*
Hair/hat: Tableau Vivant Koca (with hat) *new @ Shiny Shabby*
Dress: The Annex Dacha dress (linen) *new @ Shiny Shabby*
Boots: Just Design LouLout (black – Maitreya)