I was supposed to be leaving for England and Amsterdam this coming Sunday but illness will more than likely keep me home. It's been a rough winter in terms of getting sick constantly, but hey, Spring is on the way or so I hear. Trips not taken…
While I usually kvetch about The Arcade every season, I will say that being able to shop relatively easily from some sort of boat in between the sims made it much more enjoyable. I still get in and get out really quickly because gacha is not my thing, but I did find a machine that I absolutely fell in love with from Reverie. I probably would have bought every single thing were it not for the cruel odds of gacha, but I very much heart this collection. So delicate and pretty. Still looking for a rare, so hit me up if you can help!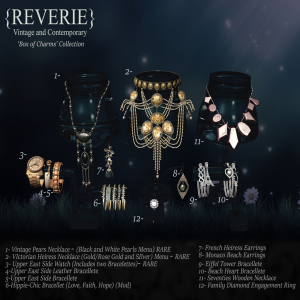 I then went to visit the main store, where there is smallish selection of apparel and accessories, but not much (any?) jewelry. I would love to see more!
xoxo
Skin: Birdy Sienna (pure – shown with contouring, lip gloss and basic eyeliner)
Lashes: Mai Bilavio Mai Essential Upper Lash (fluffy)
Hair: Tableau Vivant Myu (fades) *@The Arcade*
Bracelet: Reverie Box Of Charms Upper East Side Bracelet *@The Arcade*
Ring: Reverie Box of Charms Family Diamond Engagement Ring *@The Arcade*
Top: The Secret Store Mary Pleated Shirt (camel)
Jeans: Pixicat Klara Jeans (pink)
Flats: fri.day Sarah.Janes (blush) *@Shiny Shabby*
Weekender: Izzie's Weekender (postcard)
Background: Rowne Berlin