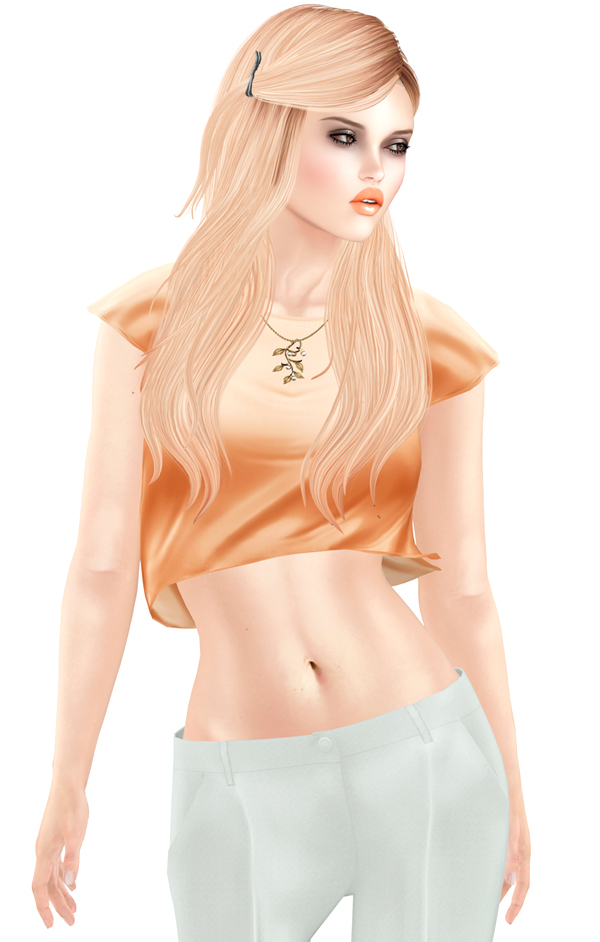 The Seasons Story opened today and for me, much like Shiny Shabby, it's just one of those events I save up for. When I came back to SL last fall, this was the first event I went to and fell in love with. The theme this spring is The Shire and for me, there is nothing more perfect. I have a deep adoration of all things Tolkien and still play an elf as my main in Lord of the Rings Online 🙂 The build is superb – immersive with hobbit holes everywhere amongst the rolling hills of Hobbiton, easy to traverse, and lovely to shop in. Bravo!
I don't know about you guys, but my hair folder is absolutely overflowing from this event! Such beautiful styles available. I mean, probably the best I have seen all in one place since I returned! I will have to break them up over several days at least. In fact, there is so many amazing things there, I'm quite overwhelmed with where to start.
This first one above is from !Oleander is called Larkin. I adore it. My top is new from Tee*fy @ Collabor88 and my trousers, new from Coldlogic. The gorgeous necklace is from Zenith's lovely spring gacha offerings also at The Seasons Story.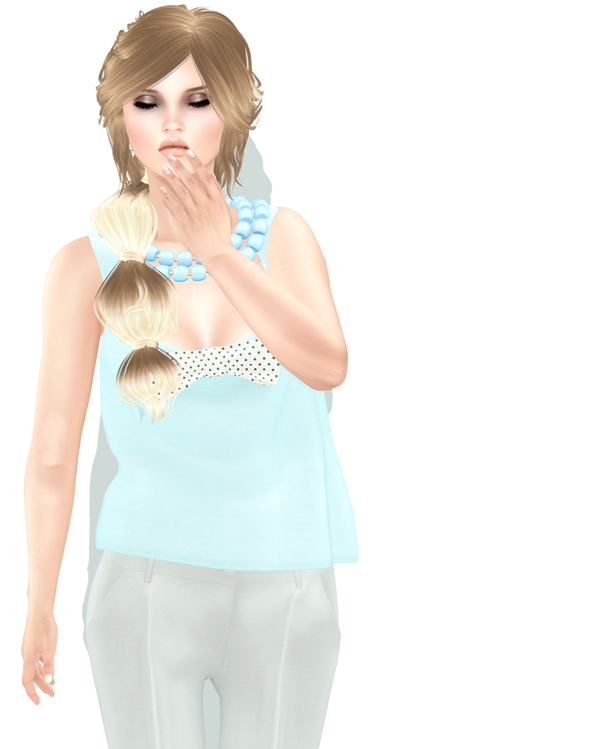 This hair is from Due and is available only as a gacha item. Having recently spent far too much at a Due gacha machine, I was more controlled here and super happy with the colors I did get! My necklace (which I will have to show in its full glory, along with the bracelet and earrings) is from LaGyo and my sweet top, from C'est la vie, both at The Seasons Story.
So much more to come from The Seasons Story and other great releases but only time for a short one today!
The Looks
Head: LeLutka Leda *new*
Hair: !Oleander Larkin (blondes) *new @ The Seasons Story*
Makeup appliers: Glam Affair @ Undivided (LeLutka store) *new*
Top: Tee*fy Roxy Cropped T-shirt (peach) *new @ Collabor88*
Trousers: Coldlogic Pant 151 Jesse (milk) *new*
Necklace: Zenith Leafs Necklace (golden)  *new @ The Seasons Story*
Head: LeLutka Leda *new*
Hair: Due Rosie (ombre 4) *new @ The Seasons Story*
Makeup appliers: Glam Affair @ Undivided (LeLutka store) *new*
Top: C'est la vie Miran Tank (sea blue) *new @ The Seasons Story*
Trousers: Coldlogic Pant 151 Jesse (milk) *new*
Necklace: LaGyo Daisy Necklace (aquamarine) *new @ The Seasons Story*