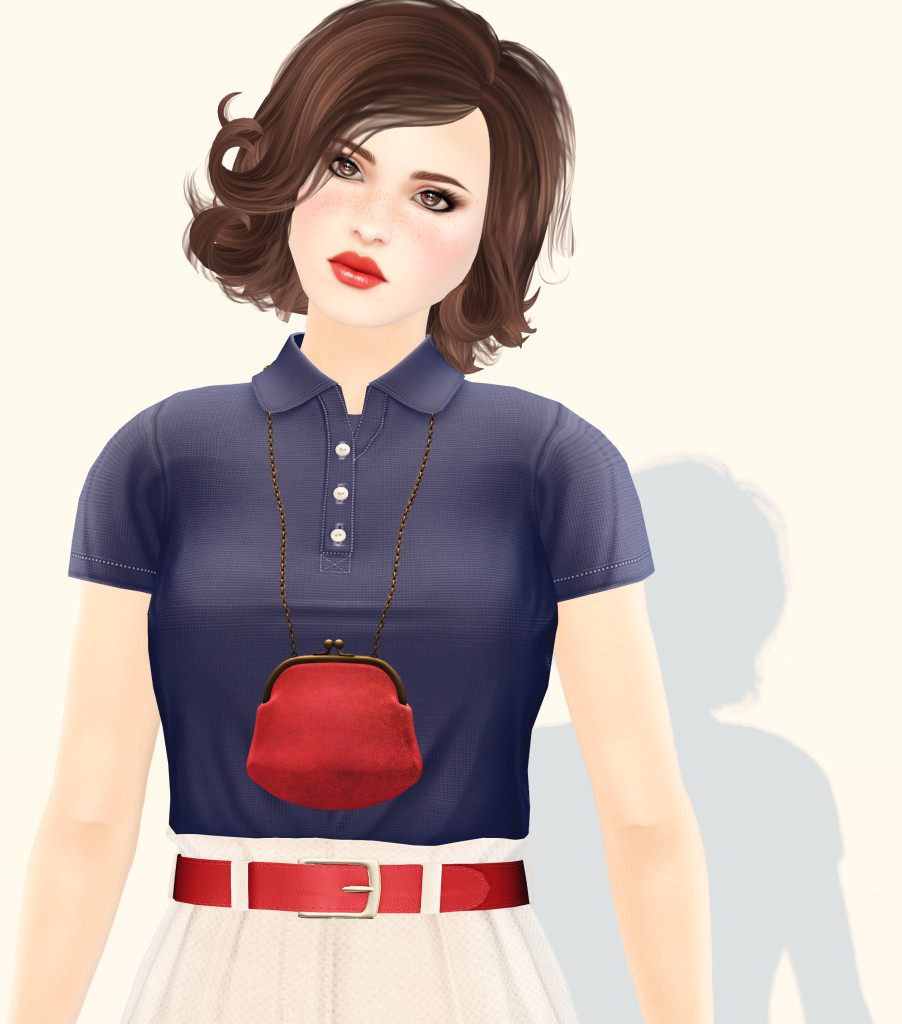 There really are items we wear – in both lives – that never go out of style. A well made, tailored piece of clothing – or in SL, a well textured, original piece – never goes out of style no matter the decade or century it's modeled after! Even from far away you can tell The Secret Store has done a great job on their Collabor88 items. But up close, the textures are especially crisp and detailed. There is nothing flat whatsoever.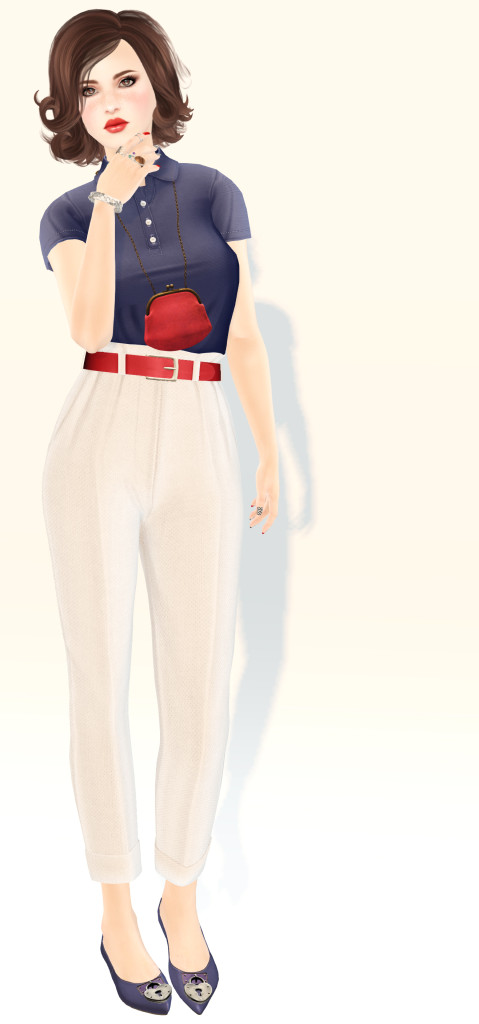 Very cute hair from Clawtooth and shoes from Pure Poison (I have said before I am a big fan). I added a sweet coin purse from C'est la vie, jewels by Ariskea and Maitreya nails by Nylon for some detail.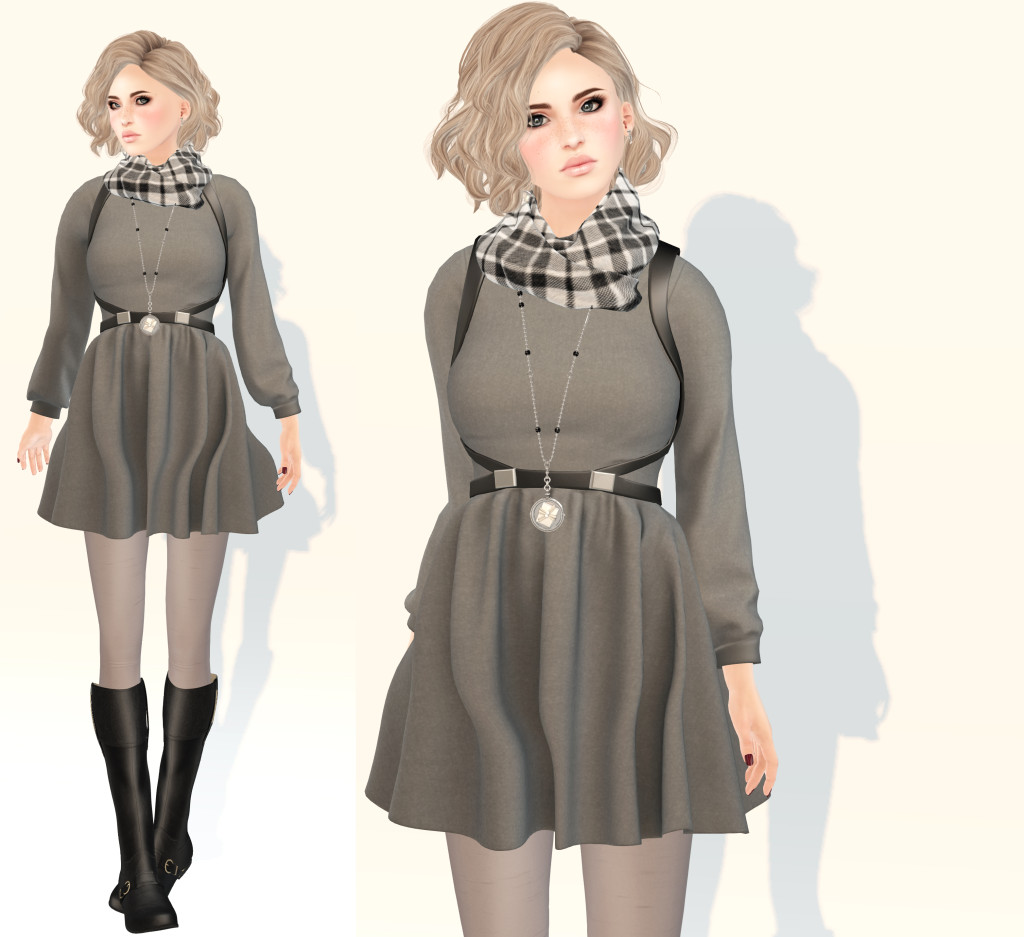 I am loving the frizzy textures from Tableau Vivant that we have seen now at Shiny Shabby and Collabor88. Would love to see more! They add great depth and realism to the hairs. This is the new Sherilyn style, available at Collabor88.
The dress is by Ison. Very on trend and expertly marrying both modern and classic elements in a great length with beautiful textured merino fabric. There are also awesome shoes available but they are only for Slink feet. This is fine but it's an inconvenience for me because I hate to mess with different body parts, appliers, etc. Maybe I am especially lazy but this is perhaps a product of being an oldbie where we never had to do that before?  In addition, I wanted to wear tights with the dress and for the life of me, I could not get them to apply to my Slink feet, even when I applied them successfully to my Physique mesh body with no issues. *boggle* I just scrapped it and decided to wear some of my favorite boots by Just Design with my Maitreya Lara body.
The Looks
Skin: Glam Affair Alice 04 (Europa)
Freckles: C'est la vie
Hair: Clawtooth Miss Home (captivating browns) *New at Collabor88*
Top: The Secret Store Laura Polo (navy) *New at Collabor88*
Trousers: The Secret Store Audrey Pleated Pants (chalk) *New at Collabor88*
Shoes: Pure Poison Locket Heart flats *New at Collabor88*
Coin purse: C'est la vie gamaguchi (red)
Jewelry: Ariskea Mystery Girl bracelets/rings (silver) *New at Collabor88*
Nails: NO Art Nails – Twin Peaks Nails for Maitreya *New at Collabor88*
Skin: Glam Affair Alice 04 (Asia)
Freckles: C'est la vie
Hair: Tableau Vivant Sherilyn frizzy chic (naturals II) *New at Collabor88*
Dress: Ison Wednesday dress *New at Collabor88*
Scarf: C'est la view oivi neckwarmer
Boots: JD LouLou Black
Tights: Izzie's Sheer Tights
Earrings: MG Secret Love Letter *New at Collabor88*
Necklace: MG Secret Love Letter Locket *New at Collabor88*