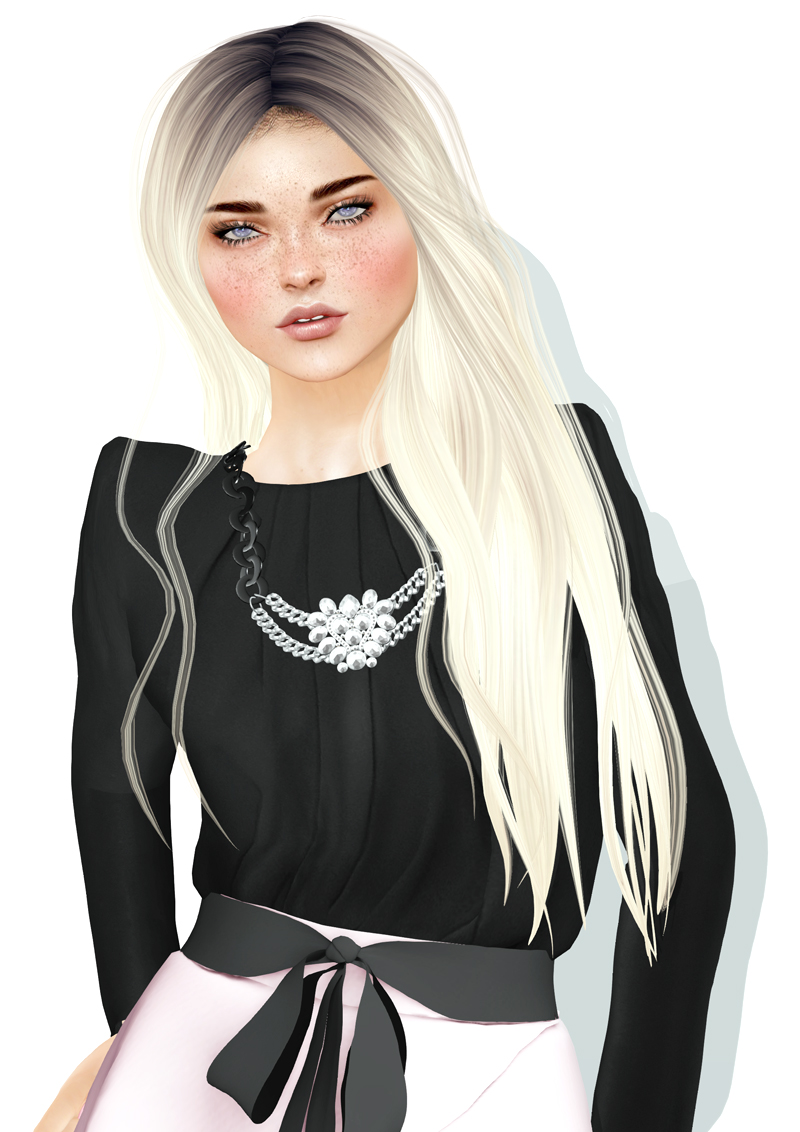 I started down this path somewhat yesterday, but I do believe I have reached the point – surprised as I am – that I really do prefer mesh heads to standard AV heads, in snapshots anyway. They just allow for much sharper features with no post processing, and after getting used to them, it doesn't feel as strange anymore. The problem though is that this has created an insatiable desire for more. More heads, more skins, more makeups. Just more. I was waiting for more appliers from The Skinnery, and yesterday they arrived at The Chapter Four.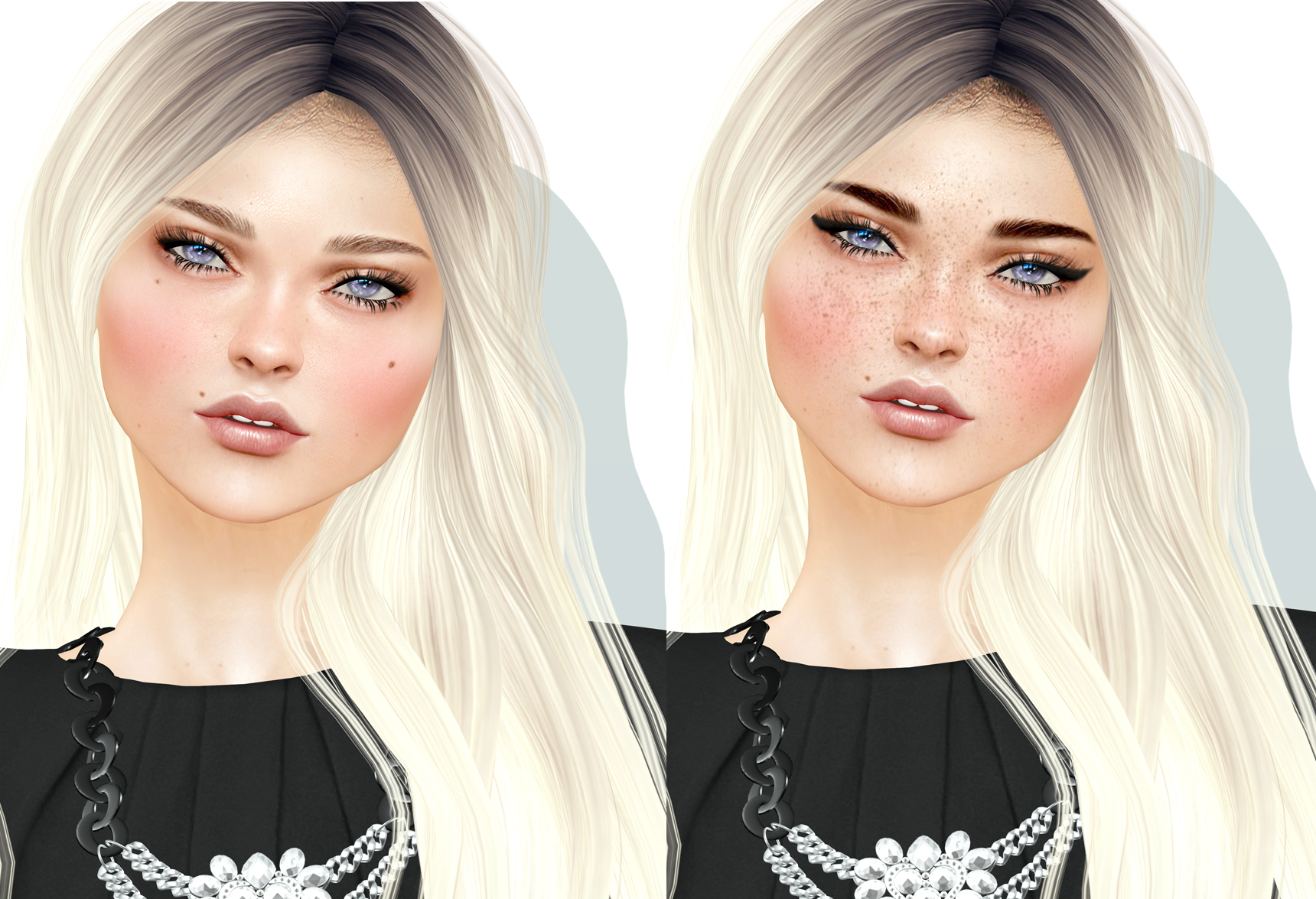 The London appliers are just skin appliers (freckles or fresh faced), with 5 different brow options but no makeup options. Accordingly, they're well priced and for me, just stunning. You can add your own lips and eyes from other appliers you own if you want. Here I have added: beauty marks from League and eyes from New Faces, for example.
I also spent some time yesterday demoing other heads around the grid. I haven't found any that are quite as user friendly for me than LeLutka and tbh, the demoing process can be kinda brutal when it's not all seamlessly built to work together. I am very open to buying others if they work with Maitreya Lara and if there are a variety of makeup appliers to be had. I do think that LeLutka mesh heads may have "won" the early mass market. Aside from being great products, they are made specifically to work with Lara and have skin/makeup appliers from so many artists, making it a very attractive way to stretch your linden. So that means, we need more, LeLutka. We have 6 so far but we need more, please 🙂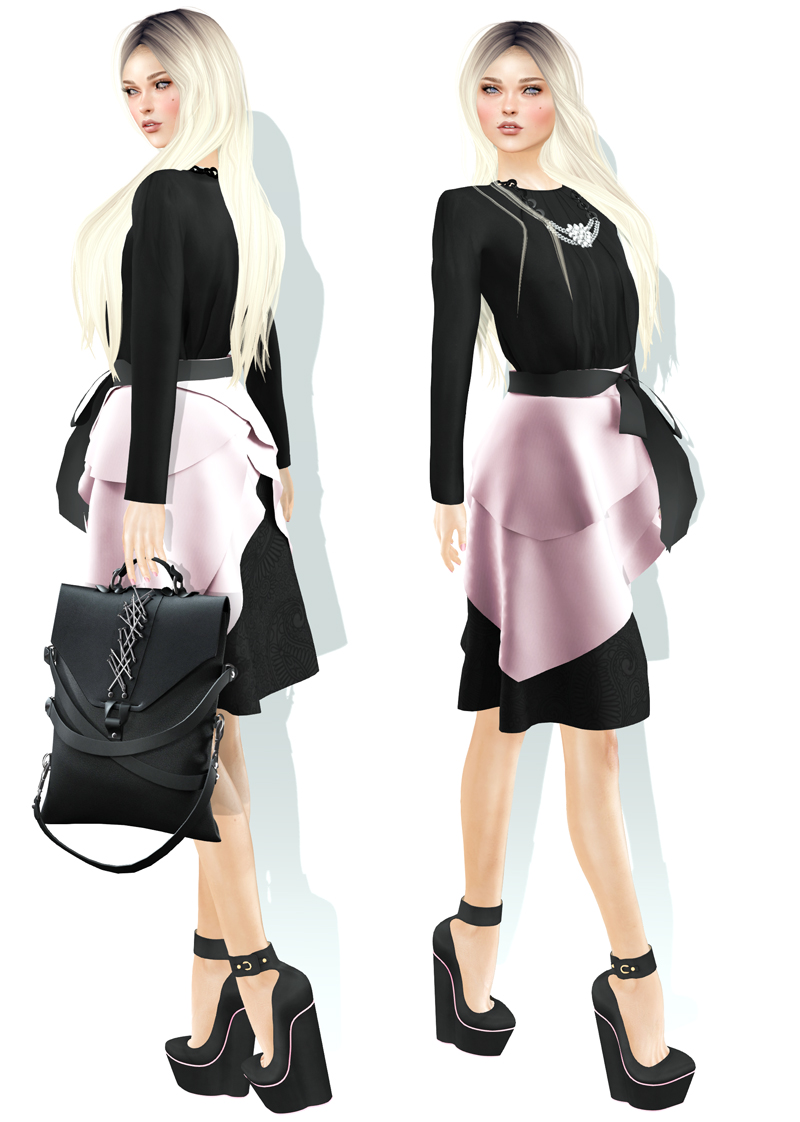 I'm wearing a new skirt from Glam Affair (hello beautiful sash bow) that is a lovely length (!!), wedges from Breathe, bag from Shi and new sexy hair from Pr!tty.
Head: LeLutka Stella
Skin Appliers: The Skinnery London (champagne) *new @ The Chapter Four*
Makeups/Beauty Spots: New Faces and League
Eyes: [Buzz]
Hair: Pr!tty Loraine (roots – blondes) *new @ The Chapter Four*
Necklace: LaGyo Mackenzie Necklace (silver)
Blouse: Rowne Anka Silk Blouse (tucked – onyx)
Skirt: Glam Affair Kira (candy & liquorice) *new @ The Chapter Four*
Shoes: Breathe Requiem Wedges *new @ The Chapter Four*
Bag: Shi Grained Leather Tote (black – rare) *new @ The Arcade*