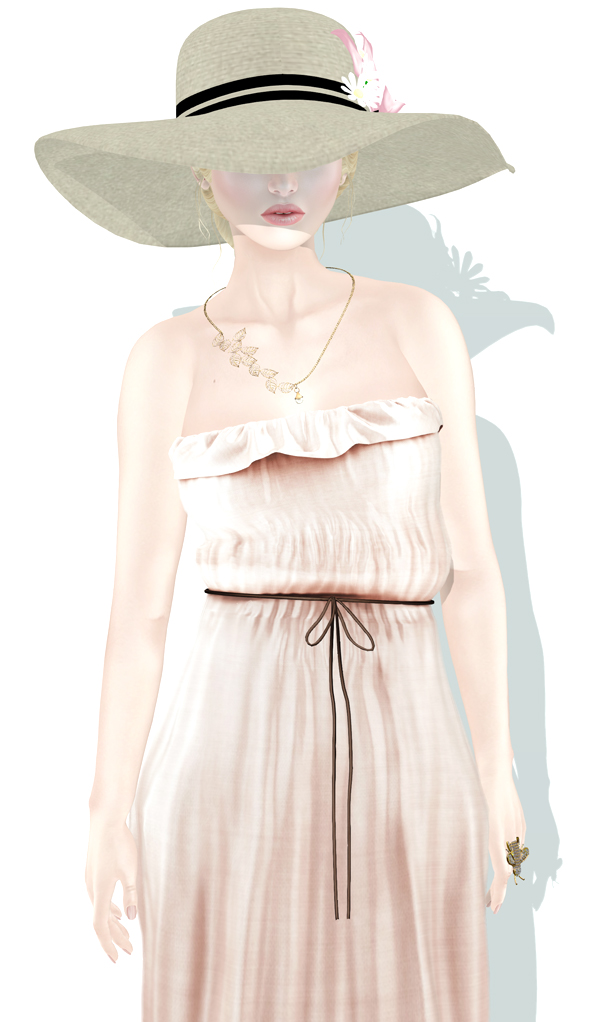 You really would need an enormous hat to protect your very delicate skin, courtesy of Glam Affair's new LeLutka mesh head appliers at We <3 RP. This is the Megan Polar applier. There is also a generous gift providing all three fantasy tones for your Maitreya Lara bodies. Many of us already had the Polar applier, which you cannot find standard as a tone on the Lara HUD, but that one also has a freckles option.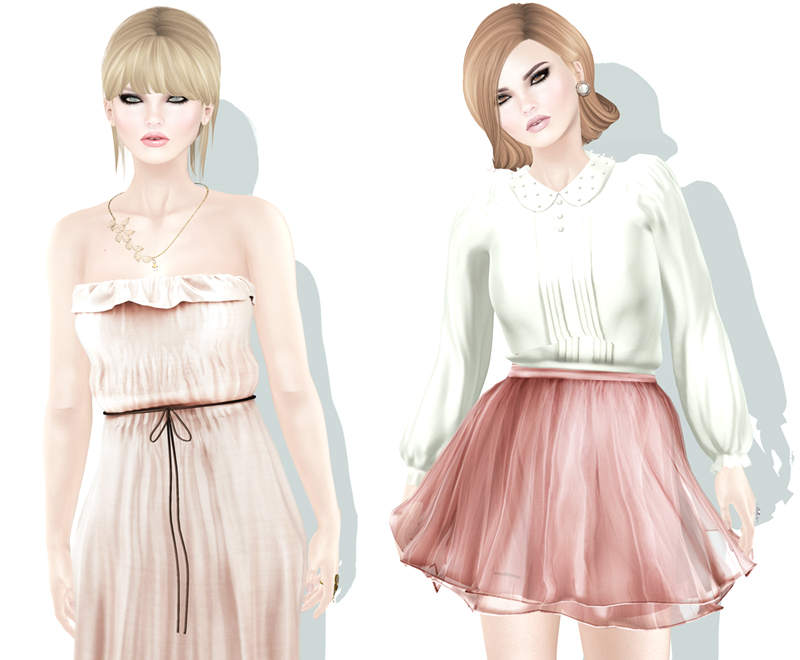 If you do take your hat off, I would hope you're wearing new hair from Elikatira <3. Elika's (then ETD) was my very first hair purchase in SL 9 (!!!) years ago. I have kept every single ETD/Elikatira hair from the beginning and that's a lot.
I'm also wearing new items from Zenith on the left from Fameshed and although the cut of this dress is almost too similar to other recent releases IMO, it's more form fitting and one of my favorites. The necklace I am wearing is available at We <3 RP and is truly lovely when you zoom in on it. On the right, my pretty tulle skirt is from Black Blank @ OVH.
The Looks
Heads: LetLutka Karin *new*
Eyes: [Buzz]
Skin Appliers: Glam Affair Megan (polar) *new @ We <3 RP*
Lips: Glam Affair Tulip *new*
Hair/Hat: Damselfly Miranda *part of bloggers pack/gift @ Fameshed*
Hair 1: Elikatira Hilary *new*
Hair 2: Elikatira Lillian *new*
Dress: Zenith Strapless Long Dress (rose) *new @ Fameshed*
Necklace: Zenith Leafs Necklace 2 (golden) *new @ We <3 RP*
Ring: PC Bee
Earrings: Epoque Pearl Fret (rose)
Blouse: Tres Blah Constance Blouse
Skirt: BB Tulle Skirt (pink)