My biggest style icon of all time is Jenna Lyons (27 years at J Crew fame). She inspires a ton of my own personal fashion and home style, although she's decidedly edgier than I will ever be. Jenna's the one who taught me how to wear an orange tulle midi skirt with a t-shirt and jean jacket IRL. Anywayyyyyy, if you're also a Jenna Lyons fan then you may be familiar with some of the meta fashion ideas she uses. One of those is "high-low" and that's what inspired today's style.
High-Low
High-Low mixes one high-end item to two low-end or more accessible pieces. Or that's the general formula, I think. So if I consider the "cashmere" coat on my avatar's arm a high piece (let's pretend, ok?), then the mesh tee is one of the lows. If my bespoke earrings are high, then my simple brooch is low. Other principles I like and use a lot IRL are dressing up jeans and probably my fave of all time, monochrome. Obviously.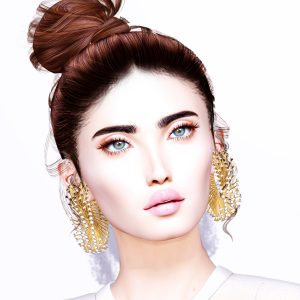 Not incidentally, I am wearing LeLutka Irina today. I so appreciate a strong, almost angular face (unlike my IRL genetics, sadly) so I am enjoying her very much. This is an older Skinnery skin so the nose and eyes aren't really a perfect fit, but I still liked the effect. I would like to soften my shape in the future once I find a suitable BoM skin for her. TBH, I haven't really looked yet.
You can see the whole head-to-toe look in the credits.
xoxo
---