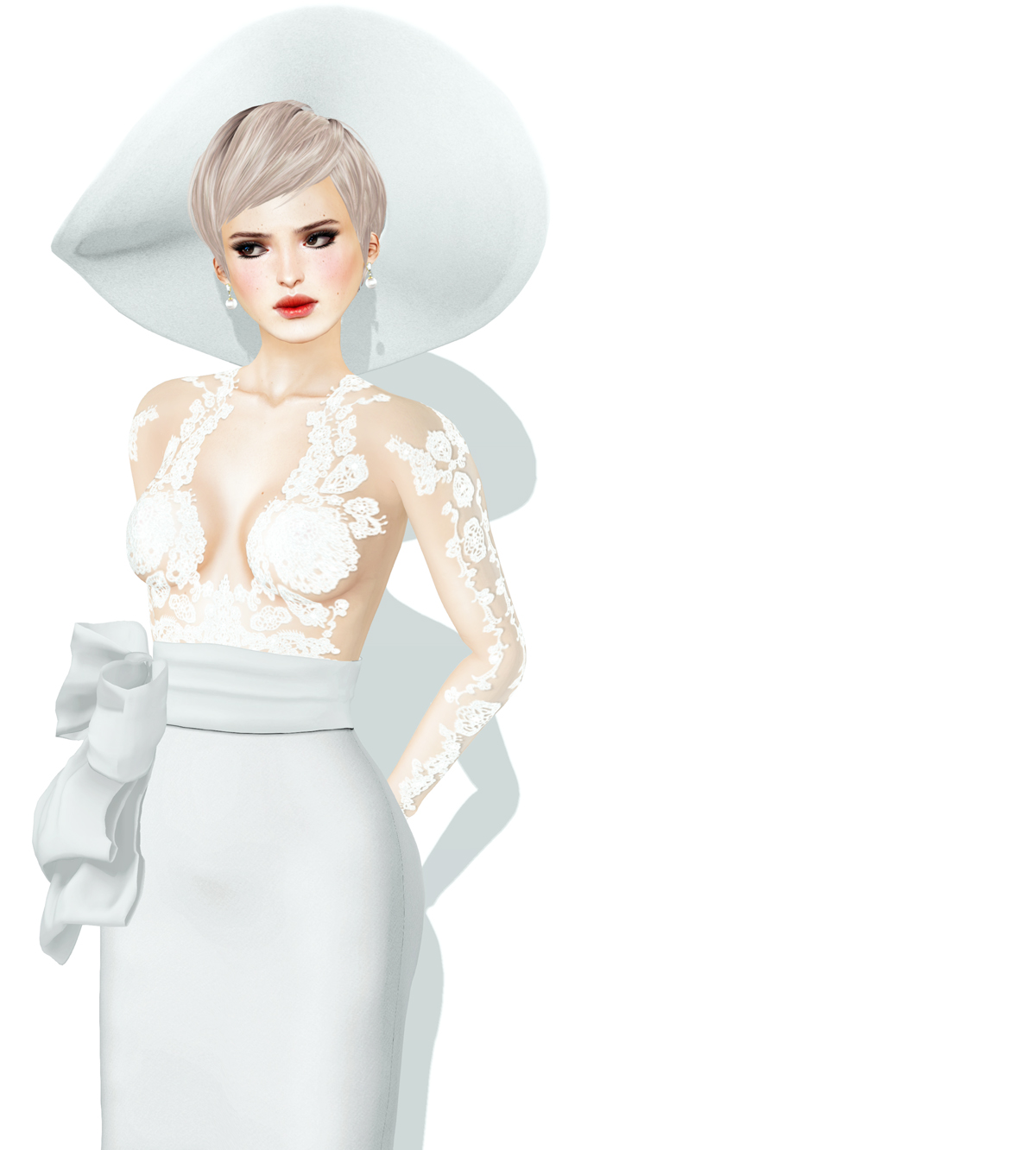 This is an opinion piece that's been rattling around my head. I have attempted to put it out there without making it War and Peace length. I very much welcome comments and all different opinions!

Think about how you shop for your clothes, shoes or accessories IRL. Those brands that you're attached to and keep coming back to. You could say there is brand "affinity" and you're part of their brand because you're wearing those designs as part of who you are. Then think about how fashion works in Second Life. It's increasingly transactional, and not as much driven by any attachment to a brand, but on the instant gratification facilitated by the platform. Then add the event circuit to the mix and what we have is essentially a fashion treadmill which few people seem to be able to get off of – artists or their buyers.
Note: none of the clothes I am wearing are related to this topic specifically…other than, Dead Dollz is an example of a brand that has made a recent impression on me
Fashion in SL "feels" different for a consumer
For me, I don't really think about brands in Second Life until they make a lasting impression on me. In fact, very few SL brands achieve that coveted "affinity" with their buyers because they're only transactional. For example, there are brands that don't use their groups much or even ever; some brands don't have special relationships with their best customers (recognition drives brand stickiness) or even recognize regular customers in any way at all.  Lastly, many brands leave their main stores unchanged or uninspired, expending energy mostly on events, which IMO have completely changed the way SL fashion functions and more importantly what it "feels" like for a consumer. As someone who has been involved in SL fashion beginning in 2006 and returned after a long break, I can tell you that it's changed in ways that are certainly convenient but don't make the buyer feel special.
Making it feel special
I keep talking about the whole event thing in my blog. I appreciate and even understand why they exist in SL. But IMO, the sheer number has reached a fever pitch that comes at the expense of the relationship brands have with their buyers. When I go to a shop or an event in SL, I want the experience – I don't just want the merchandise. I want them to know my name and even which items will suit me. That's unrealistic in SL maybe, but not completely. For example, when Pixicat is working on something special she sends a note to the group with her "work in progress" so that we know what's coming. We feel part of her process. She thinks to include her customers. Yet, if I open up my group list in SL, hardly any have sent a message in 90 days or more, which really is pretty telling to me.
What now?
Well, I love fashion in both lives. I spend a large amount of my money on how I look IRL – and that's because of how it makes me feel and how I express who I am. I have that "affinity" for a slim few brands in SL and with every "new to me" brand I try, I hope to find that special reason to visit their shop or collect their past inventory. Is it unrealistic? I don't think so. I am still looking for a better balance of convenience and experience and I'm not done searching yet.
———
Body: Maitreya Lara
Skin: The Skinnery Cristy 2 (champagne) shown with moles/freckles (rare add on)
Lips: The Skinnery Cristy Rare Lips (various)
Lashes: Izzie's Mesh Lashes
Hair: Uncle Web's Studio Giz (Ash Blossom)
Hat: Violent Seduction Strega Hat (white)
Earrings: erratic rose pearl earrings
Dress: Dead Dollz Astra (white) *new*
Shoes: Reign Vintage Bow Heels (white) *new*
Hair: Ayashi Neya (whites) *new @ Shiny Shabby*
Earrings: LaGyo Ludovica Earrings
Dress: Dead Dollz Evie (for Maitreya Lara only) *new @ TFC*
Tights: The Secret Store
Heels: fri.day Cora (coal)
Purse: Junbug Art Deco Purse (cream) *new*
Rings: ieQED dream ring set (gold – Maitreya) *new @ Collabor88*
Hair: Catwa Princess *new*
Collar: Glam Affair Peter Pan Embellished 9 (white)
Earrings: Epoque Pearl Fret (chrome)
Dress: Dead Dollz Vesper (black – Maitreya Lara only) *new @ Shiny Shabby*
Tights: Izzie's Sheer (Maitreya)
Shoes: fri.day Oakley Black (part of Tuxedo pack)
Save