Here in Boston, summer has arrived. I'm celebrating with colors that are maybe less than summery :p. Like I talked about here, I'm very into things I can break up and wear as I like.
This handkerchief top from miss chelsea is simple and very well done, and I love that it's not attached to anything (although there are bottoms available too). There's a million ways to wear tie tops like these but one of my favorites is with wide-legged trousers and bright heels. Since the top is so skimpy, I balanced it with a more conservative look on the bottom.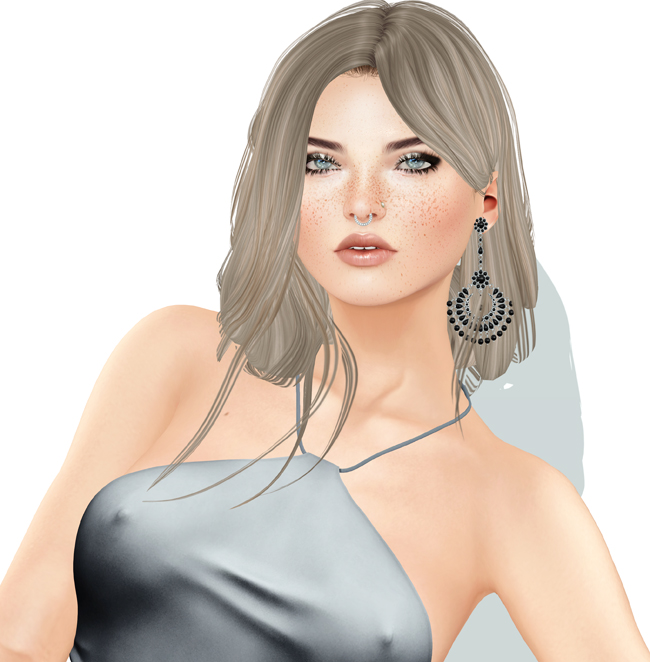 I'm also into showing my freckles. I have them IRL and I love them when they're well done in SL. The darker you go in tone with the Avril freckles applier from Glam Affair, the more pronounced the freckles. I love them!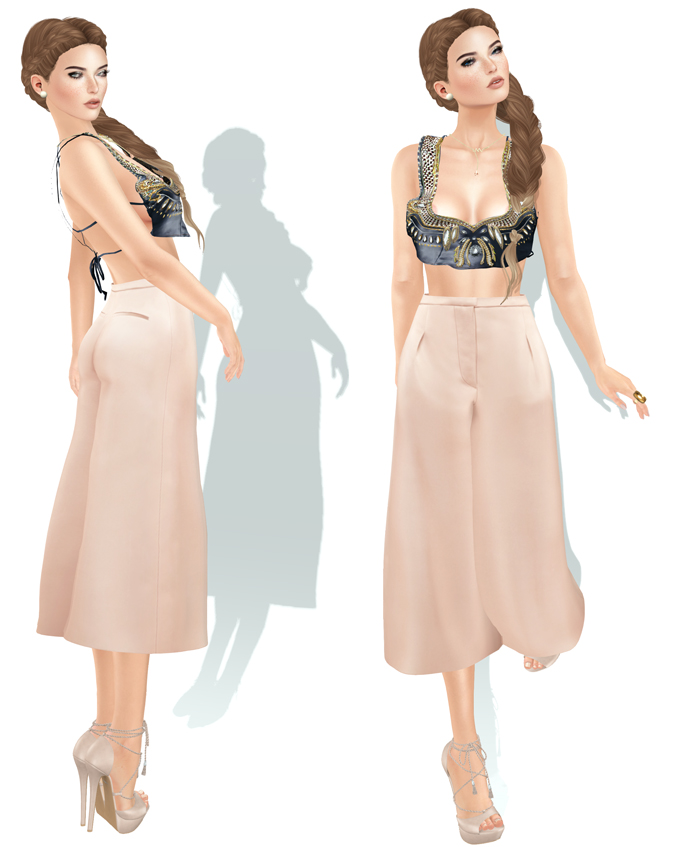 More fun with separates. This time with a top from Fishy Strawberry. It's so gorgeous but it does show a little nipple. And finishing up with this Helix necklace new from Cae at the new round of Cosmopolitan. It's HUD driven so you can change metals and gems, as well as resize easily. I thought it was expensive but it's essentially several necklaces in one and her pricing seems consistent across releases. I will re-use it a lot so for me, it was a good buy.
The Looks
Head: LeLutka Karin
Skin Appliers: Glam Affair Avril Freckles (America) *new @ uber*
Eyes: [Buzz]
Hair: Catwa Lazy *new*
Earrings: MG Maharani *new @ Uber*
Top: miss chelsea Handkerchief top (grey) *new @ Uber*
Bottoms: ryvolter Karo Satin Culottes (grey)
Heels: Pure Poison Amber Sandals *new @ Uber*
Hair: Truth Ishya *new @ Uber*
Earrings: LaGyo Single Pearls
Top: Fishy Strawberry Jaya Top (black) *new @ Uber*
Necklace: Cae Helix *new @ Cosmopolitan*
Bottoms: ryvolter Karo Satin Culottes (nude)
Heels: Essenz Cape Town *new @ Shiny Shabby*
Ring: Zenith Geometry Stone