So this bag is definitely not "blush." It's orange. Clearly. I still like it, but I have confirmed it's definitely not blush, despite its name. If you remember OVH – a brand I always favored for its simplicity and unique color stories – it is now called Diomar.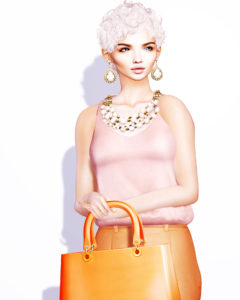 I am not sure if this is a rebrand/relaunch or a completely new creator taking on the inventory, but here we are. There is not yet an in-world store, so you can shop from marketplace (which is why I couldn't see this bag was actually orange even though it's called blush). Oh and and all the demos cost $1L (which really annoys me…why is that still a thing?)…
With all that said, I absolutely LOVE these trousers. They might be my favorite shape for a more formal trouser in my entire inventory. Better, IMO, than the ISON X Rowne collaboration even, which is THE standard in tailored basics. And speaking of ISON X Rowne, this tank top is from that very special collection. Sadly, no longer available!
I look forward to the in-world Diomar store so I can get demos without being annoyed – oh and the actual colors I wanted 😉 To be clear, I love the orange too…but it's definitely not blush.
xoxo