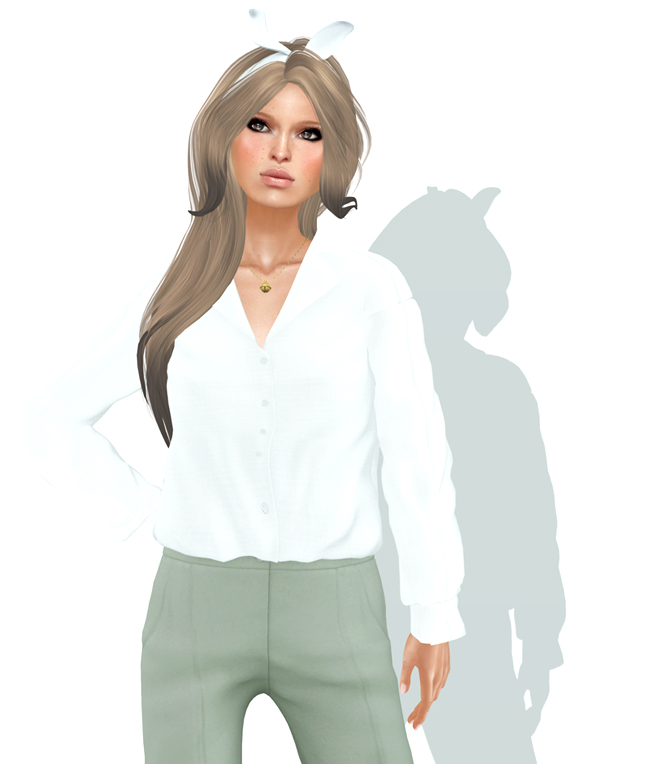 I tend to stick to fair tones in skins, maybe because that's what I am IRL. But I do love going darker too. The tones from The Skinnery – Toffee, Mocca, etc. – are so incredibly done that I enjoy wearing them as much as my favorite champagne or milk tones.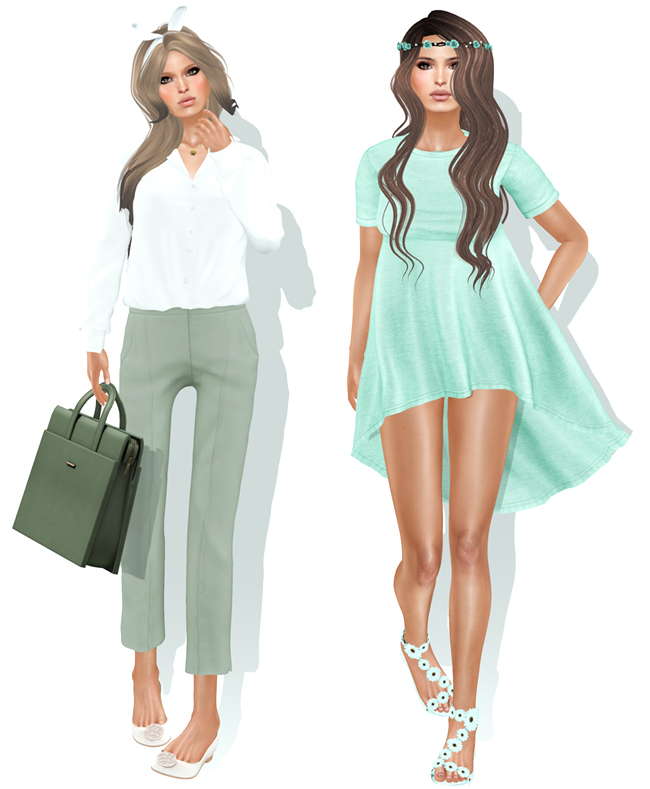 My clothing is mostly new from some recent events. Special mention for some of my favorite flats I have found recently from Breathe. I think when I last visited the main store, the shoes were only Slink. These (on the left) have a fitted Maitreya version and they're available at IDK. I love them. The pants outfit from Dami is very, very much how I dress IRL on most days, like it's taken from a page in a JCrew catalog. However the sizing on this single set runs very small I would say. I am wearing the large because fitting it with a mesh body was tricky around the chest area. Be sure to demo (unlike me!!!)
Tomorrow, I am thinking of tackling the subject of customer service. As a blogger not part of any official bloggers groups by choice, my experience with actually purchasing items is incredibly different than those who are regularly sent items specifically to blog them. So I'm thinking about what a reasonable time to respond to issues is…3-5 business days? More or less? Maybe it will be resolved by then!
Anyway, to be continued!
The Looks
Skin: The Skinnery Maya 11 (toffee)
Hair: Olive The Rachel
Necklace: Olive Gold Bell Necklace
Outfit: Dami Spring Blossom Blouse/Slacks *new @ IDK*
Shoes: Breathe Petrichor Flats (Maitreya nude) *new @ IDK*
Briefcase: David Heather Cognac Tote (moss)
——
Skin: The Skinnery Cristy 1 (toffee – rare)
Hair: Olive The Sasha *new at IDK*
Dress: Vincue Windy+T Dress *new @ Kustom9*
Shoes: Candy Doll Daisy (aqua) *new @ Kustom9*
Flowers: Noodles Spring Floral Crown (mint) *new @ The Seasons Story*