I feel like Bold & Beauty only recently entered the mesh head applier market? Maybe this isn't accurate, but this is my perception. I went all kinds of hyperbolic at Skin Fair with their Lien applier for Catwa and I wear it all the time. I was definitely hoping for a Fiore offering, and it arrived at The Seasons Story just a few days ago.
"Sarah" is available only for Fiore heads (I am showing it on Precious) and I really like the realistic face; very young and fresh. The eyebrows are almost perfection for me and the lips, just right (note that I am also wearing lip colors available separately). However, what I don't think works at all are the Bold & Beauty Maitreya body appliers (which you also purchase separately). The body textures are completely different than the head textures and no neck blend can disguise that, I'm sorry to say. These need to be updated, and soon. Hopefully this is in the works.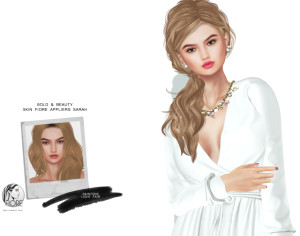 Keep in mind that the way the Fiore heads are currently sold, there is no base skin or accompanying HUD packaged with the head. You must have at least one applier from Fiore to do any customization. So this means that if you don't yet have a Fiore head, but you want the Bold & Beauty Sarah applier, you won't be able to do anything beyond paint your head one way – not change eye color, not change expressions, eyebrow position, hairbase, etc. Hopefully, Fiore will be updating their head packaging to include a basic HUD control so that customers only using third-party appliers will get full use out of their heads too (oh and they should add an alpha with the actual head).
Other items I am wearing and loving are new hair from Tram, also available at The Seasons Story, new jewels from Yummy, romper from ISON and new platform heels from fri.day, all at Collabor88.
I have some other new appliers I'll be working on blogs for soon hopefully!
xoxo
Head: Fiore Precious
Applier: Bold & Beauty Sarah *new @ The Seasons Story*
Hair: Tram F312 *new @ The Seasons Story*
Necklace: Yummy Accessories Spring Bud Necklace (gold) *new @ Collabor88*
Earrings: Yummy Pearl Berries Earrings (gold) *new @ Collabor88*
Romper: ISON Long Sleeved Romper (Maitreya – white) *new @ Collabor88*
Sweater: ::K:: Shoulder Knit V2 (mauve)
Heels: fri.day Honey.Platforms (cloud – Maitreya) *new @ Collabor88*
Tote: ryvolter Xylia Knot (white)