Yes, yes, it's another "wow, I love this skin" post. But I do, so it is.
This is Nova from OVH & Co, which comes in three dark tones. Mine is NC35, the middle shade. The applier is priced under $1000L and includes body appliers for three bodies. If you are a fan of the beautiful dark skins from Milan, you will love this – and other beauty offerings – from OVH at a much more reasonable price point. I am definitely enjoying their new beauty line for sure and that includes the hairbases, also new.
Predictably, I am a vision in pink and rose. I need to especially call out my heels by Nutmeg. I would have fatpacked these but there is an issue with the socks on the right leg of my Maitreya body (note these are only available for Maitreya bodies). Despite the sock issue, which I would expect to be fixed, the shoes are lovely and amazing. A perfect mix of modern and retro. I am in love with them and would love a version without the socks (even if they get fixed).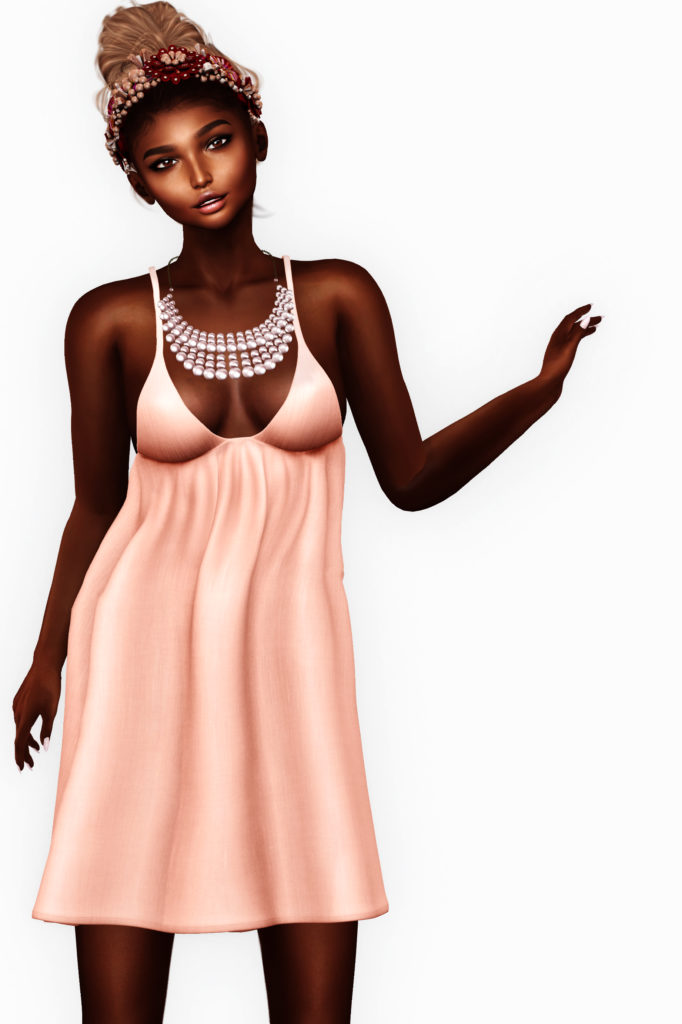 Enjoy the weekend!
xoxo
Head: LeLutka Simollian
Skin: OVH & Co Nova (NC35) *new*
Hairbase: OVH & Co Mable *new*
Hair: .LeLutka.A-NV-0004
Necklace: [Avenge] Balls necklace – pearls *@Tres Chic*
Dress: Clef de Peau.Leila Dress Coral (Lara) *@Shiny Shabby*
Heels: Nutmeg. Madeleine Pumps Brown/Creme Socks PalePink *@Shiny Shabby*
Clutch: Ariskea [Les Roses ] Clutch [ 1970 ]