I put together this look before the weekend but then went away for my birthday (!!) and only went to blog it today (after switching out my skirt first, naturally). The whole time I styled it, I kept thinking about how odd it was that I picked up only one thing at Uber…this bag in a single color from Bauhaus. Then I realized that's pretty typical these days. Where I used to buy so much at every event, now, it's the exception that I leave with more than 2 items. It's the incredible shrinking spree!
For those of you who were around way back in SL, you may remember release days for Last Call, Paper Couture or Celestial Studios. It wasn't unusual to buy every new release. Paper Couture held exclusive fashion shows before releasing their spring or fall lines. It was – sincerely – so exciting. Yes, I realize this is a game, but what made fashion in SL so compelling back then wasn't just the items, but the anticipation of a major new release. They were special and worthy of your time and excitement, in addition to your $.
I suppose I am a bit nostalgic, but can you blame me?
xoxo
ps – I hope to review the new Belleza body as soon as I have a chance!
---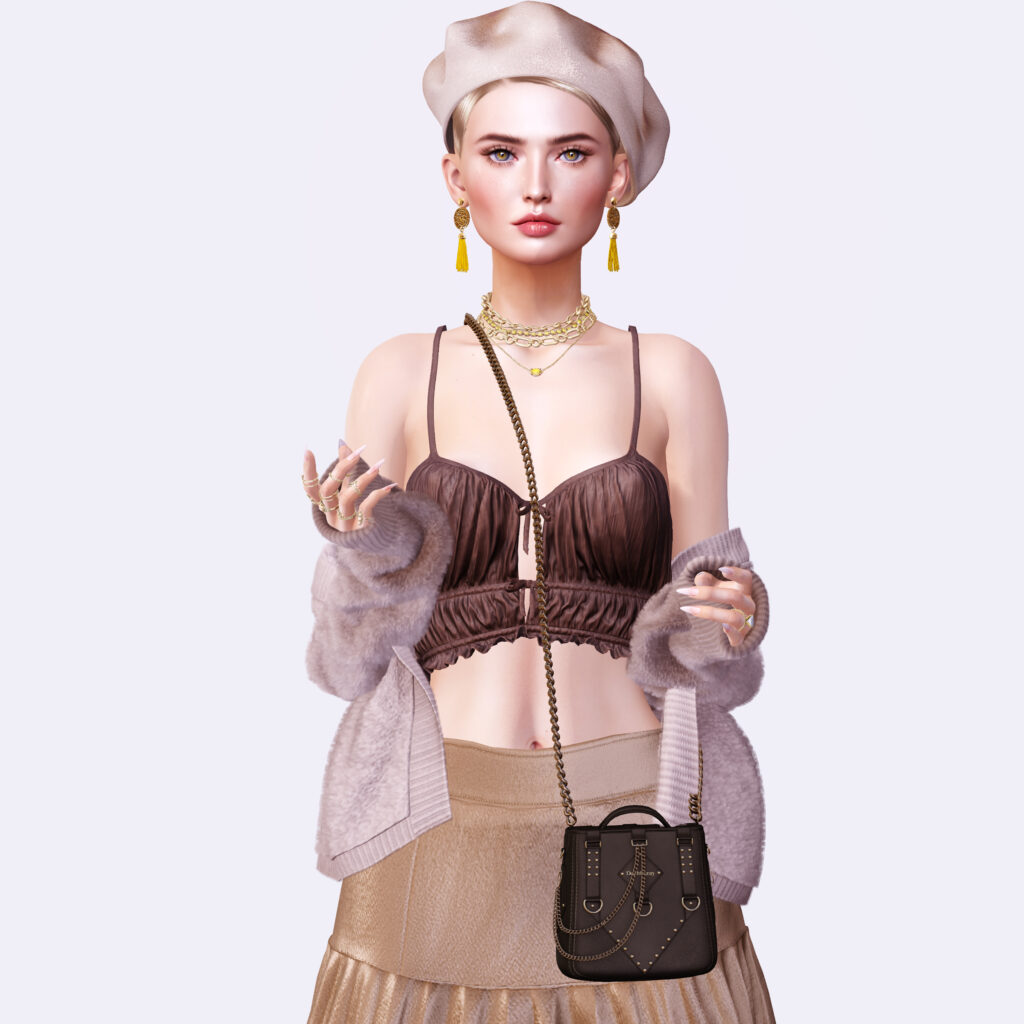 The Incredible Shrinking Spree
Head: LeLutka
BoM Skin: E.BEAUTY – ALLIE
Beret: OPALE . Beret Bloom
Hair: RAON Hair // Cecile
Earrings: LaGyo_Positano – Tassel Earrings – Gold
Necklace: (Yummy) Chloe Layered Necklace
Top: Pixicat– Stephanie Top – LeatherBrown
Sweater: TETRA – Off-shoulder cardigan
Skirt: ISON – fernanda pleated midi skirt **updated**
Rings: Vibing — alicia rings — gold
Rings: (Yummy) Dutchess Ring
Bag: Bauhaus – Morgana Purse **@Uber**
Heels: [Gos] Mia Flared Pumps