I recently raved about the new mesh heads and appliers from Fiore, released at the end of the year. To my delight, the brand released another, completely different applier, Jing, available in 3 tones to work with all five Fiore head shapes.
It's no secret I love Asian skins, mesh heads, and now, appliers. It's remarkable to me how different the Fiore heads look with Jing, as opposed to Toni or Aylah. Based on this, I am definitely looking forward to more – many more applier additions from Fiore.
The HUD is quite different than the previous two applier HUDs and tbh for me, was a little bit confusing.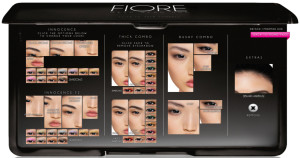 Essentially it's three different looks that you cannot mix and match but are similar, only subtlety different. They should probably be named something more distinctive to make it obvious and the labels are very small, making it hard to see what you're clicking. In addition, when I minimize the HUD it completely disappears off my screen. Aside from those small items, it's absolutely lovely, not to mention very reasonably priced with all the customization you can do. On the makeup tab you have your choice of lips that match the looks on the features tab, as well as blushes.
Of all the new appliers I have, I am most enamored with this one I think, from a pure beauty perspective. It's like having a completely different mesh head and I would say is a great investment if you like Asian looks and already own a Fiore head.
Hair/Hat: Shi Street Chic w/Bangs *new @ K9*
Sweater: Zenith Waist Long Sweater w/shirt (milk) *new @ K9*
Trousers: The Secret Store Audrey Pleated Pants (chalk)
Heels: fri.day BettyJanes (pitch) – yes I am OBSESSED with them
Tote: LaGyo The Apasionado (classic)
Hair: Mithral Basil *new @ The Seasons Story*
Necklace: Kotolier Fortune Necklace
Rings: Mandala Polly (gold)
Romper: Teefy Kayla Romper (creme) *new @ K9*
Clutch: Lowen Anne Clutch (champagne)
Heels: fri.day Veronika (nude)