Yes, that's what she said.
I really don't know what it means, but I can tell you I have been a HUGE fan of striking eyebrows IRL since before it was apparently stylish.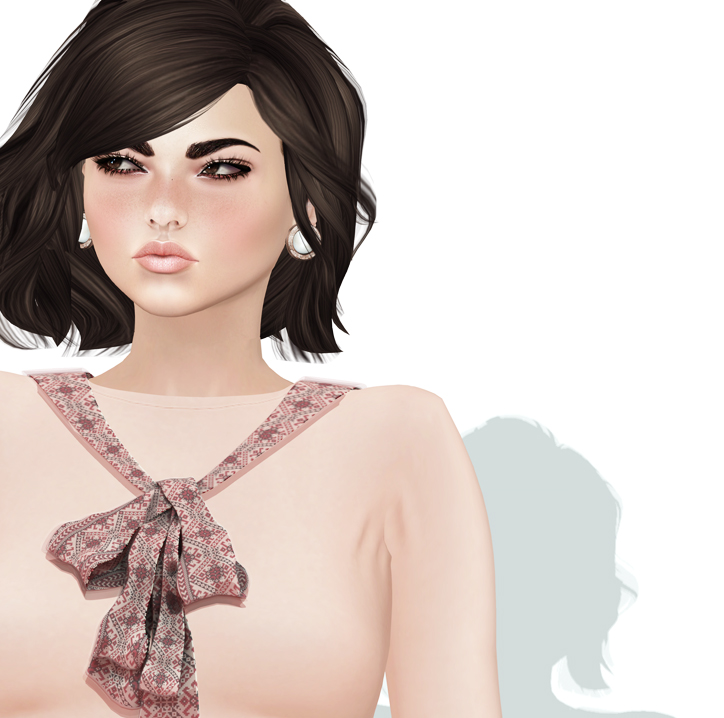 These appliers are new from la petite morte, and though I am not wearing my LeLutka heads much atm, I wanted to try these – strictly for the eyebrows. There are two sets of appliers available for both LeLutka and Genesis Lab's heads for a discount this weekend. I am actually not wearing the discounted tone here; this is tone 4. Each non-discounted tone costs $800L and comes with no mesh body appliers of any kind and only one option – eyebrows or no brows. The whole point is kinda the brows, no?
I am wearing the Ashley LeLutka applier with my Slink Physique body (plus hands and feet), which I haven't worn in ages. I am glad I did because when I went to get a redelivery at Slink, there were 2 HUDs in the box and one was large, making it super easy to mess with the alphas. Anyway, I couldn't find Maitreya body appliers anywhere in the la petite morte shop, except as a group gift, which seems really weird. Maybe I missed them somewhere…?
Then I am wearing the discounted tone 3 with my Chloe head from Genesis Lab (as is suggested in the add). I do love the eyebrows but I am less likely to wear either of these regularly without appliers for Maitreya Lara (or Belleza). Incidentally, I continue to have neck issues with some of the Genesis Lab heads, and you can see how much better my LeLutka ones fit on the Slink body. You can see the neck seam on the Chloe shot. YMMV!
Credits are included after the cut.
Body: Slink Physique
Hands: Slink
Feet: Slink
Heads: LeLutka Stella and Genesis Lab Chloe
Skin Appliers: la petite morte Ashely *new*
Top: ryvolter Augusta Open Back Crop (nude) *new*
Scarf: enfant terrible Vintage Girl Scarf (layered)
Bag: Zenith Leather Calceolaria (grey)
Skirt: Pixicat Victoria Skirt (shade)
Wedges: fri.day Charlie Wedges (grey) *new @ N21*