Are you a head collector too? Wait, that came out wrong. Let's try this again. Would you stay you stick to one main mesh head in Second Life, or do you rotate depending on your look or mood?
For me, I'm mostly a one head kind of girl. Over the years as the original LeLutka Bot, I started with Simone (all the renditions), moved to Korina (RIP to my soul head), and now I am almost always in Inez, which seems to be one of the least popular models, but one I enjoy very much!
I always have every intention to use all the LeLutka EvoX bento heads I have acquired over the years. Here's a current up-to-date look at my LeLutka EVO-X inventory – before a beautiful new head drops today.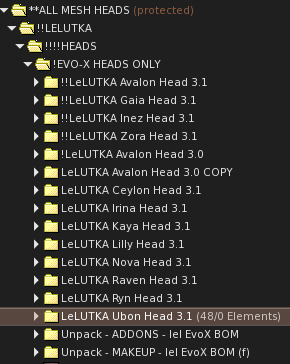 I have not worn 85% of these heads. But, that clearly doesn't stop me from acquiring new ones. I guess you never know when a good intention will become something more. Stay tuned. In the meantime, here's my avatar in a cute romper – a word I hate almost as much as moist.
xoxo
---
Every Intention
Head: LeLutka
Eyes: AviGlam
BoM Skin: Voguel – Izzy Skin
Brows: The Skinnery
Cheekbones: Velour
Hair: NOVA. Sound **@Access**
Romper: miss chelsea. Ayla Romper Perky Creme **@Equal10**
Cardi: miss chelsea. Peni Cardi
Kicks: [Enchante'] – Jacey Sneakers – Legacy – White