It's completely predictable that my avatar is surrounded by (hairless) cats, wearing a wicked old system skin and back in my LeLutka Korina head. I am nothing if not…well, completely predictable. I really still love this head, even though it's not one of the Evolution heads. I like to use all the skins in my collection – not just continue to acquire new ones.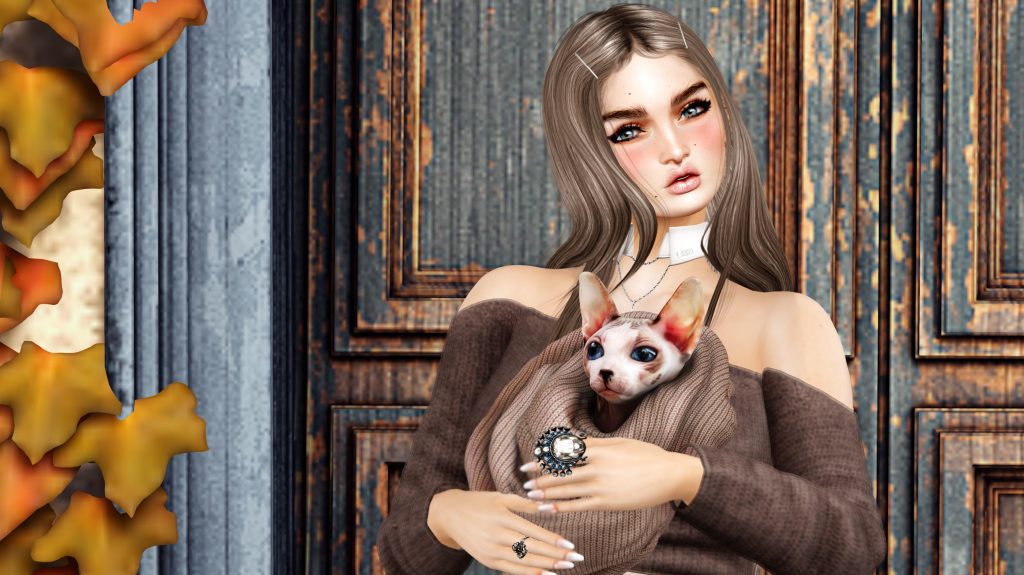 If you don't recognize it, this is The Skinnery Blair, which I doubt is available anymore (but should be remade IMO). Thanks to BoM, I can still wear it on my mesh heads although the toes and fingernails from the body skin obviously do not work at all well on a mesh body. Because Blair is a full skin and not a layer, I can't wear the newer BoM body skins as that would replace the head too. C'est la (deux) vie!
A couple new items that I should mention about this style. The new Tram hair is lovely and I much prefer it without the bangs; and I was able to pair the new cropped sweater from UFO with a simple jumpsuit that I was waiting to blog in another color. Of course the kitties are the real stars. I am cat-less IRL after the death of my sweet rescue Gabriel this past Spring. I miss him so very much!
xoxo
---