This fresh, bare-faced look is courtesy of DeeTaleZ, a brand with some of the most expensive (but no less lovely) skins in my collection. TBH, I rarely buy them because of the pricing, but every now and then, they're a nice palette cleanser for their especially natural beauty. Coincidentally, I am bare-faced IRL after I had some crazy allergic reaction to a Covid mask. No makeup at all for more than a week now! Needless to say, I am just glad that as of today, no more masks required in Boston!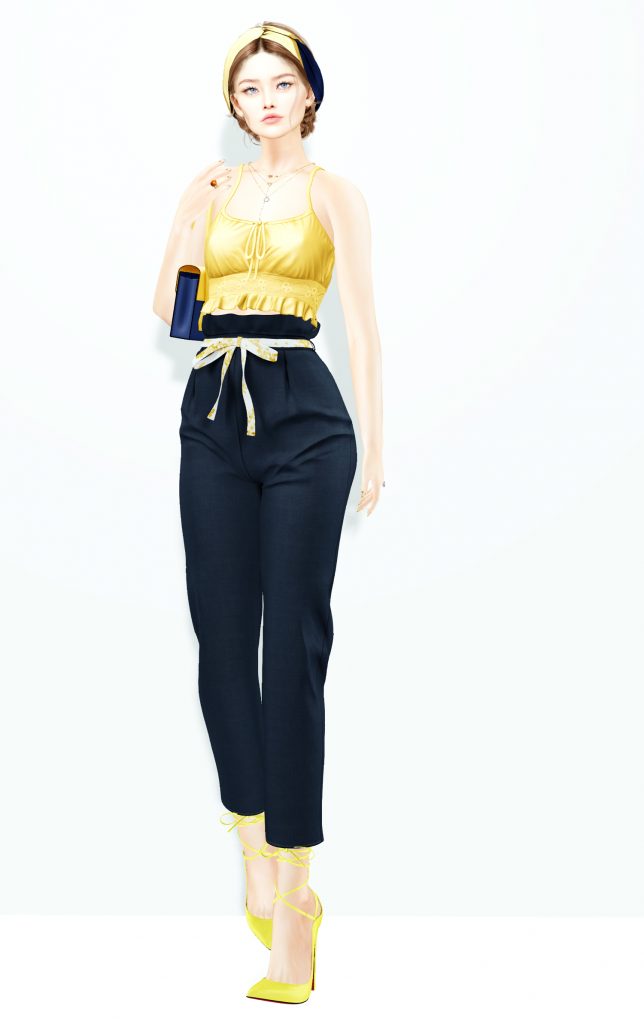 I guess I would describe this overall look as fairly bare as well – a good complement to my skin. But, and although I really love it, haven't we seen this Tram hair before? Maybe it's just the scarf that's familiar and not the actual style? Regardless, it's sweet – but I wish there was a plain white scarf option included too.
I am going to be away again for a week or two. Although it's cold and raining atm, this weekend is the unofficial start to summer and I want to get down to the water.
xoxo
---
Head: LeLutka
BoM Skin: DeeTaleZ Skin Sandra for LELEVOX / BROWS: brown/ Nordic **@Uber**
Hair: tram K0517 hair **@Uber**
Necklace: Kibitz – Jenni's necklace – gold **@Kustom9**
Top: (fd) SweetiePie Top – FATPACK
Trousers: Seniha. Abby Pants **@Uber**
Heels: [Gos] Stephanie Suede Pumps – Illuminating **@Uber**
Bag: MOWIE – "Tanere" Bag **@Kustom9**