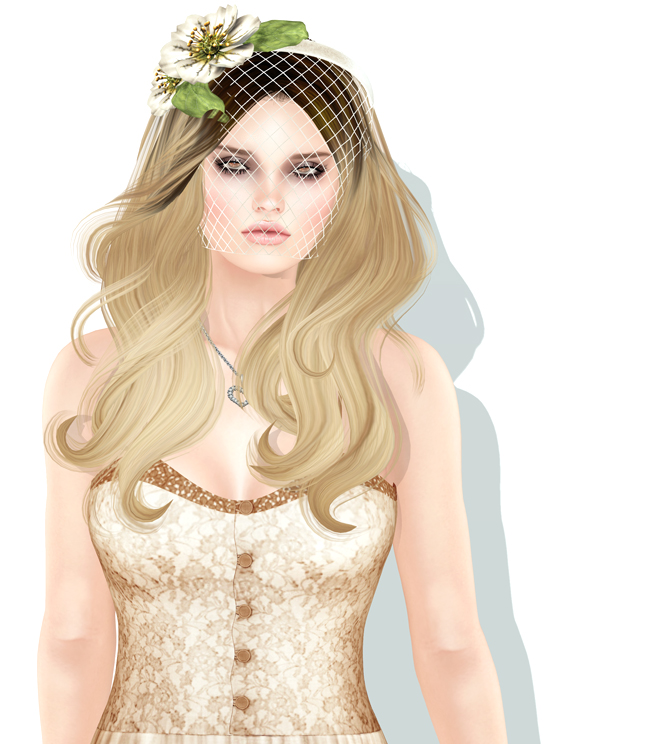 I felt a little bit prim and proper in these ensembles, without even meaning to. I was just snapping some recent releases that I liked and voila, apparently I am on my way to church…or a tea party? I love the new hairs from Lamb at N21. Overall, I didn't really feel too many of the clothing offerings there, but the hairs are great for me. I'm also wearing what I think is the first ever piece by miss chelsea from Shiny Shabby. If this is where they start, I'm excited to see where they go. And…if the designer is looking for ideas, I have one I have been trying to get made for a while 😉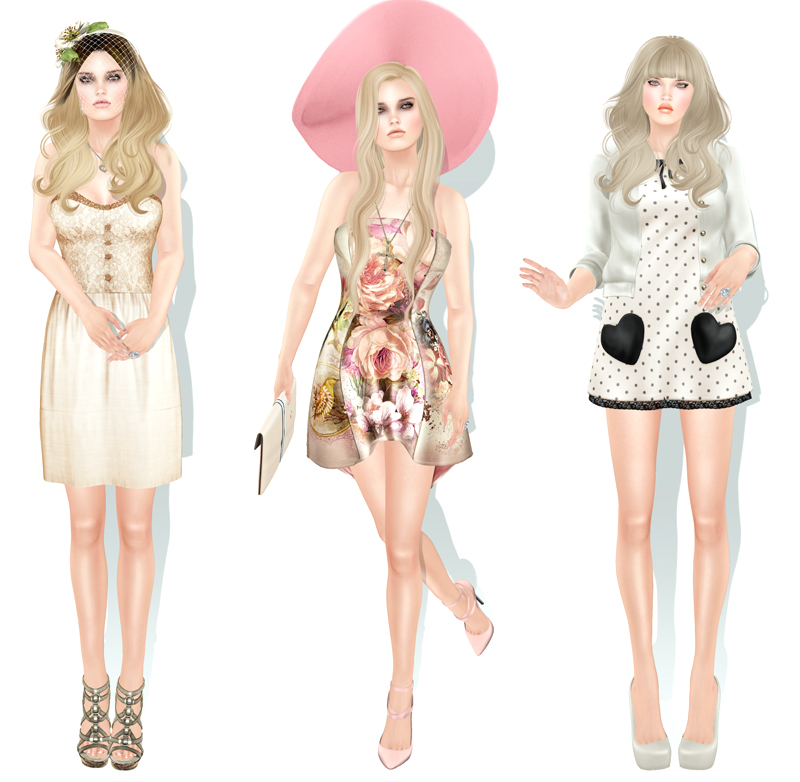 A little compilation of prim and a bit proper. In addition to my new hairs from Lamb, I am wearing yet another new favorite from Entwined from Shiny Shabby. I have quickly amassed nearly every release and so Entwined now earns a spot in my fave hairs folder 🙂 So, so good. In addition, I did very much like this cute cardigan and shift dress from Atomic at N21. You get several color options in each small pack, so it's a good price, particularly for the cardigans which you can really pair with anything.
In other news…
I am eagerly awaiting the releases of new skin appliers for the LeLutka mesh heads. Previews on several blogs have me very excited – and particularly for the ones I have seen from YSYS which look absolutely gorgeous. What other ones will be offered I wonder? How do they choose?
I am going to add one more random thing here because why not? The hat and necklace I am wearing in the middle are from Violent Seduction at Kustom9. This gacha generously provided me with like 30 hats (all randomly in my objects folder btw…I think the unpacking is borked), 12 necklaces, and approximately another dozen glasses. Not a single dress…because every dress was rare. It would have been nice if even just one of the dresses was common ^^ /rage
The Looks
Head: LeLutka Ever 1.1
Makeup and Lip appliers: Glam Affair for Undivided
Eyes: [Buzz} Celestial Eyes (honey)
Hair: Lamb Haunt *new @ N21*
Headpiece: Zenith Hibiscus Flower Headpiece (milk – gacha) *new @ Shiny Shabby*
Necklace: Yummy Open Heart Pendant *new @ N21*
Dress: miss chelsea lace sundress (cream) *new @ Shiny Shabby*
Ring: PC Teardrop Diamond Baguette
Shoes: Eudora 3D Darya Wedges (sand) *new @ Shiny Shabby*
Head: LeLutka Ever 1.1
Makeup and Lip appliers: Glam Affair for Undivided
Eyes: [Buzz} Celestial Eyes (honey)
Hair: Entwined Lana *new @ Shiny Shabby*
Hat: Violent Seduction Strega Hat (pink – gacha) *new @ Kustom9*
Necklace: Violent Seduction Strega Necklace (gold – gacha) *new @ Kustom9*
Dress: GizzA Absinthe Dress (vintage pink) *new @ Shiny Shabby*
Shoes: Fri.day Opal Heels (blush for Slink feet)
Clutch: Epoque Alimony clutch (flesh)
Head: LeLutka Leda 1.1
Makeup and Lip appliers: Glam Affair for Undivided
Eyes: [Buzz} Celestial Eyes (honey)
Hair: Lamb Haze *new @ N21*
Cardigan: Atomic Casual Cardi (set 1) *new @ N21*
Dress: Atomic Heartbreaker (set 3) *new @ N21*
Ring: PC Teardrop Diamond Baguette
Shoes: Fri.day Veronica Platforms (nude)