I'm keeping my look mostly minimalist today for maximum impact. I was particularly taken with this skin from Moccino Beaute for Lelutka heads. The subtle freckles and fresh complexion won me over. I almost didn't demo because tbh, the ad photo was some sort of morph (I think?) and looked nothing like what I ended up purchasing. Just goes to show that sometimes, ads don't help sell!
I'll also mention the price. You get one tone for $990L. While it's slightly under 1000L (which for me is the absolute cap for any applier before things get stupid), it doesn't include any makeup options and only one eyebrow color – which you can see is very light, really limiting your options. You can add your own eyebrows though because each pack does come with a no-eyebrow version. Body appliers are sold separately.
I love the new Hairbases for Lelutka heads from Tableau Vivant. Such great styles that I didn't even want to add any attachments because they are interesting and beautiful as they are. Maximum impact. However, the numbering for the Tableau Vivant hairbases is confusing. If you have some of the earlier releases, they are numbered like, "Lelutka HB11" for example – and now, they're renumbering them as "Lelutka HB 03" when there is already a "Lelutka HB3." As a blogger, I like to be able to quickly find the things I need, because I reuse/restyle older content all the time. This doesn't help – so a texture of the styles included (not the tones) would be helpful in each pack.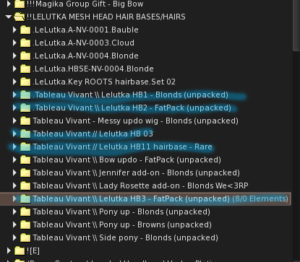 Lastly, I am blogging with poses from someone other than Bauhaus Movement today. I highly recommend the new pack from Kirin at Kustom9!
Have a great rest of your week!
xoxo
Poses: Kirin *new pack @Kustom9*
Head: .LeLutka.Head.Simone 3.0
Skin: Moccino Beaute Gabriela (sunkissed) *@Vanity*
Eyes: ARTE Brown Gem eyes *@Vanity*
Hairbase: Tableau Vivant Letlutka HB 04 *@Kustom9*
Scarf: ::C'est la vie !:: Virginie scarf
Rings: KUNGLERS – Bariska rings – Sapphire gold – Maitreya
Outfit: :V.e. Arianna Ensemble MT Blackout *@Equal10*
Booties: [BREATHE]-Moxie Heels-M.Lara-Black *@Kustom9*