I loved this round of Kawaii Project, but it's true that I don't really do kawaii really well >.< Still, I absolutely LOVE these shoes by Kata0nik. They are just tiny bits of perfection. With my pixie hair from Moon, I feel a bit like a pretty little imp. Is that a thing?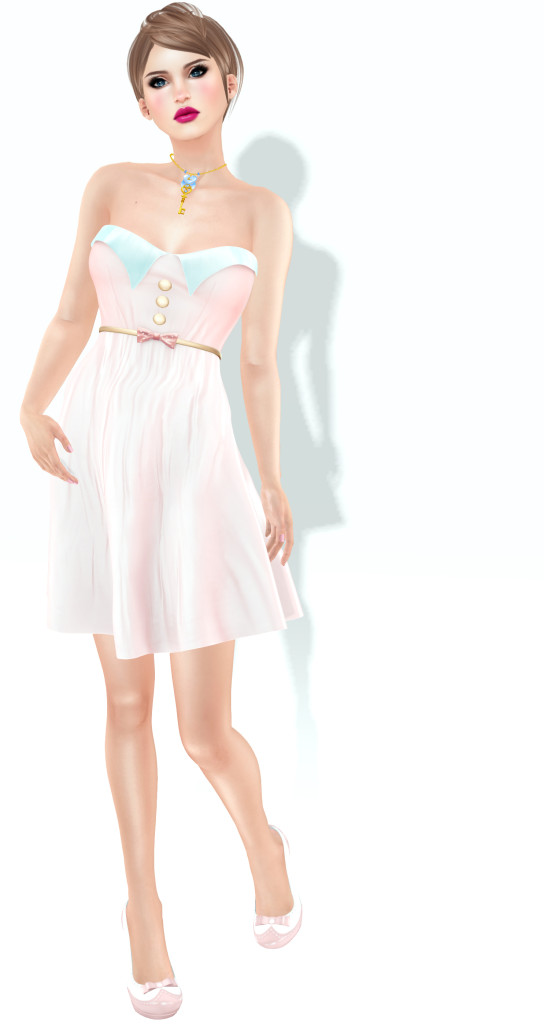 Another item from Kawaii Project, this sweet Papi dress from B.C.C. It was pretty expensive for a single dress but the blouse has 10 color changes via hud and you can also change the collar texture. I love the blouse, and would like to have it separate from the skirt so I could reuse it. It would be so helpful to have more standalone well done blouses in SL IMO.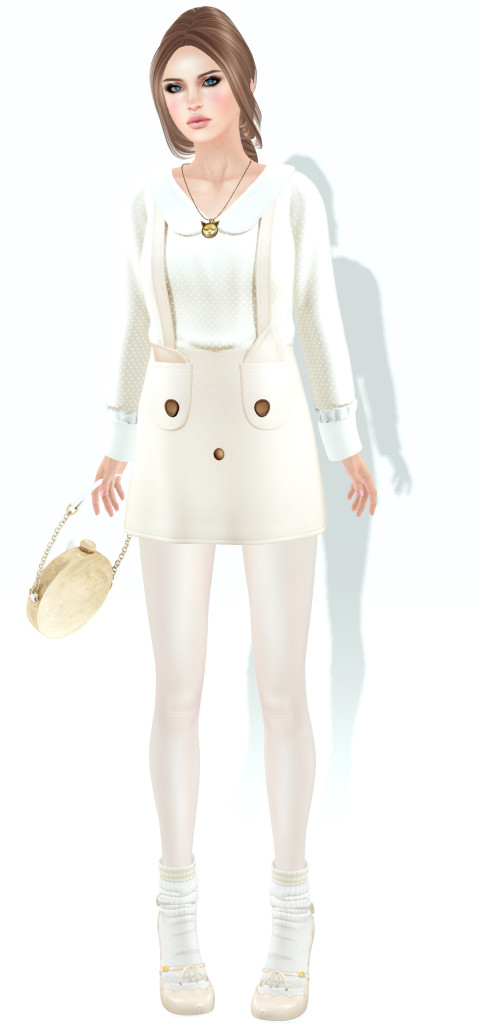 A pretty robin's egg blue on the B.C.C. blouse.
Incidentally, I am messing around with my windlight settings, so will be trying different ones until I find one that's comfortable for me. Since I do not postprocess, I have to find lights that don't wash out the products and the skins. It's quite complicated when you try to change it up!
The Looks
Skin: Glam Affair Katra (asia) *@ Skin Fair*
Hair: Moon Pixie Harlow (group gift) *New*
Dress: {Imeka} Sabina Dress (baby pink) *New @ Kawaii Project*
Shoes: katat0nik Wingtip Pumps (nudey) *New @ Kawaii Project*
Necklace: Altair Mahou key Necklace (light blue) *New @ Kawaii Project*
Skin: Glam Affair Katra (asia) *@ Skin Fair*
Hair: Moon Eleven 11 (brunettes) *New*
Dress: B.C.C. Papi Dress (cream) *New @ Kawaii Project*
Shoes: Cila First Love Heels (nude)
Necklace: NO Lucky Cat Charm – Lucky Coin (gacha) *@ Arcade*
Purse: yumyums Late for a Date Purse
Tights: Izzie's sheer (for Maitreya)