I can remember a time when I didn't put a lot of thought into using bags for my blogs in Second Life. This was back in the days long before mesh, hell, before anything other than carrying what were essentially shoe boxes on your arm. No really. It's so nice to be able to not just blog, but regularly actually use bags as actual accessories in my day to day SL travels.
A Bag Worth Buying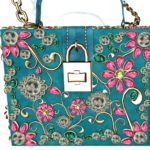 Bauhaus Movement has put out one of the best small bags I have seen so far in Second Life. If you haven't seen it, you can get a very attractively priced pack of all colors (or single colors) at Shiny Shabby. The detail on the Mavi bag is absolutely crazy beautiful and the size is perfection for me. It is reminiscent of a RL Valentino bag I covet. I love elaborate embellishments on accessories so for me, this is definitely a bag worth buying.
New Appliers from YSYS and Essences
I am also showing two new mesh head appliers that I really love. One is new from YSYS for Catwa heads and the other from Essences for LeLutka. Both are available at Shiny Shabby, as is my new dress that is so well done by Murray. Shiny Shabby has done a great job on their resdesign so if you haven't been a fan of the last few rounds, I would suggest heading back over. There's a lot that's worth having!
xoxo
Head: Catwa Amy *new*
Applier: YSYS Danana (tone 2) *@Shiny Shabby*
Hair: Exile Empty Pages
Necklace: Tracei Chrysta (gold) *@Tres Chic*
Purse: Bauhaus Movement Mavi (white) *@Shiny Shabby*
Dress: Murray Mimi Dress *@Shiny Shabby*
Heels: Essenz Rosario (white) *@Shiny Shabby*
Head: LeLutka Stella
Applier: Essences Mana (Medium 1) *@Shiny Shabby*
Hair: Entwined Jessica (light browns) *@Shiny Shabby*
Necklace: Yummy Talisman Charms (luck – gold) *@N21*
Purse: Bauhaus Movement Mavi (Celeste) *@Shiny Shabby*
Dress: Murray Mimi Dress (peach) *@Shiny Shabby*
Heels: Maitreya Gold Liaison (blush)